PUNJAB

HARYANA

JAMMU & KASHMIR

HIMACHAL

REGIONAL BRIEFS

NATION

OPINIONS

MAILBAG

BUSINESS

SPORTS

WORLD


Every Wednesday and Friday

Young World
Kaun Banega Krishna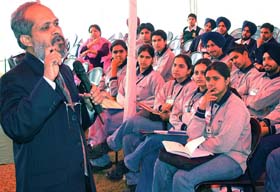 Kidzee Model Town launched "Kaun Banega Krishna", a talent hunt contest for the children of age group five to 15 years.
Dr V.S. Ravinderran of Eduexcl interacts with students of MGN School in Jalandhar on Thursday. — Photo by S.S. Chopra
Aiding lives
Knowledge uplifts and service ennobles. Ashu, an HIV positive patient, has been feeling that way ever since he took it upon himself to talk about the condition to others like him — helping, counselling, empathising. Nails polished and arms waxed, Ankit could be mistaken for a woman.
New light on first Hindi novel


It was believed by now that Lala Sri Niwas was first novelist of modern Hindi period but the research conducted by the Dean Languages, Guru Nanak Dev University, Prof Harmahendra Singh Bedi, has established that it was not Niwas but Pandit Shradha Ram Phillauri who had written first novel in modern Hindi period.

November 22, 2006

November 17, 2006

November 15, 2006

November 10, 2006

November 8, 2006

November 3, 2006

November 1, 2006

October 27, 2006

October 25, 2006

October 20, 2006

October 18, 2006

October 13, 2006

October 11, 2006

October 6, 2006

October 4, 2006

September 27, 2006

September 22, 2006

September 20, 2006

September 15, 2006

September 13, 2006

September 6, 2006

September 1, 2006

August 30, 2006