All ways blocked
Encroachments seem to have become a common thing in the city and that, too, with the alleged connivance of the civic authorities in Phagwara. The fact that the most glaring instances of encroachments can be seen in prime locations and in front of offices of the administration, police stations and district courts.


Shops stretched to the roadside in the Grain Market of Phagwara. — A Tribune photograph
Young World
Tsunami of flower arrangements
On Saturday, Eklavya School, Jalandhar, organised Sahodaya inter-school flower arrangement competition in which students from over 15 schools affiliated with the CBSE participated.


Memorial in wire mesh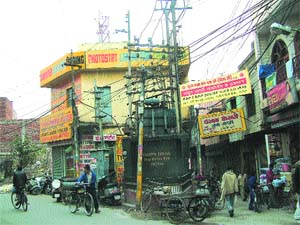 Freedom Fighter Vaid Mansa Ram Samarak at Panj Peer Chowk in Jalandhar. — Photo by S.S. Chopra
Mountain arts
A sage saw Gautam Budha's image in the flowing canvas of a river in Tibet as he was taking a bath and started painting the pious image that is how the art of Thanka (meaning a canvas that is hung) paintings took birth, goes the belief in Tibet.
Citizens' Corner
The Tribune is starting a column providing residents of Jalandhar and its neighbourhood an opportunity to highlight their problems, which are of a public nature.