Protesters lathicharged
Deepkamal Kaur
Tribune News Service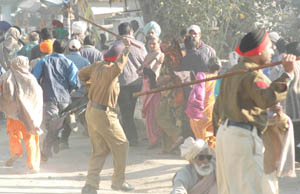 Police personnel lathi charge members of the Pendu Mazdoor Union protesting in front of Master Gurbanta Singh Memorial Janta College in Kartarpur on Friday. — Tribune photo by Pawan Sharma
Kartarpur, December 15
Members of the Pendu Mazdoor Union who were out to hold a demonstration in front of Master Gurbanta Singh Memorial College, where the Deputy Chief Minister was presiding over a convocation function, were lathicharged here this afternoon.
Police personnel led by DSP (Rural) Jagmohan Singh wielded canes on nearly 35 protestors carrying black flags. No one was spared, not even women.
The protestors came from the Kapurthala Gate side towards the main gate on GT Road seeking waiving off of their power bills . Eight prominent leaders of the group were detained at Kartarpur police station. Those rounded up leaders were :Kashmir Singh Ghugshore, Kala Dugri, Jaswinder Singh, Balbir S. Dhirpur, Sukhdev Singh, Billu and Avtar Singh.
Police personnel gave that they had to resort to lathi charge as one of their men got injured. They even presented a man in mufti ,who, they said ,was hit by the protestors. When the lensmen tried to take his picture, he was whisked away in a gypsy.
Even the SSP termed the incident as a "minor scuffle" as he said that a policeman was injured by the protestors who pelted stones on him. However, eyewitnesses said that no such incident took place. The SSP further said that minimum force had to be used to thwart any such action. When told that no apparent attack was made on policemen, he said that SP City-II had been asked to inquire into the matter. He further said that those rounded up would be booked.
The college is owned by Ch Jagjit Singh, Local Bodies Minister. While the rallyists were simply walking around the boundary of the college, they could not meet the Local Bodies Minister or Deputy Chief Minister, Ms Rajinder Bhattal, as both had directly landed in the college grounds in a chopper ride from Chandigarh.
The passouts of the college had to actually pay off for being a student in a college run by a minister as they had to wait for over three hours as the function ran much behind the schedule. Even as it was to start at 11:30 am, the students were called at 9 am for rehearsal and the function actually began after 2:30 pm with the arrival of Ms Bhattal, who said that she was busy with a cabinet meeting.
After awarding degrees to nearly 200 students today, she interacted with mediapersons. Regarding today's statement by Mr Sukhbir Badal, general secretary, SAD, on re-opening corruption cases against Ms Bhattal, she said that her case did not fall in the category as it was rather a case of misappropriation of funds. She said that the matter was still pending in Supreme Court adding that junior Badal had no right to talk over judicial matters nor was he going to come into power again.
Regarding restoring of pension to aided colleges, she said that the matter was being looked into. Regarding her desire to be the next CM in case Congress came into power, she said that the decision was in the hands of the party high command though many party leaders could eyeing that post.
Later in the day, Mr Tarsem Peter, president of the union, gave a press note demanding quick release of the members arrested. He said that in case they would not be released, the union would have to resort to protest.