Unsung Punjabi star
P.K. Jaiswar
No one remembers Punjabi cinema star Yash Sharma. His first death anniversary fell on December 29. Neither the state government nor the film fraternity has come forward to observe the anniversary. Once a heartthrob of the Punjabi film audience, Yash died in oblivion and penury at his relative's house in Amritsar last year. Yash Sharma
NRI woman alleges fraud by step-mother, sons
P.K. Jaiswar
A Canada-based NRI, Kulbir Kaur, has complained to the DGP alleging that her stepmother and stepbrother have fraudulently grabbed her share of land and property by misusing her power of attorney.


Sunshine girls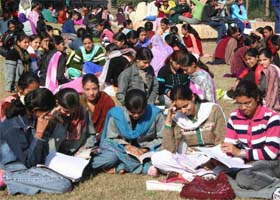 Girl students go through lessons in the warmth of the sun, just before taking their examination, in a college ground in Amritsar. — Photo by Rajiv Sharma
Rashtriya Gaurav Award for
Dr Bhatia
Dr S.K. Bhatia, Professor of English, Guru Nanak Dev University, has been selected for Rashtriya Gaurav Award by the India International Friendship Society, New Delhi.
ICFAI on UGC's varsity list
The University Grants Commission, in a notification on November 1, 2006, has included the Institute of Chartered Financial Analysts of India University (ICFAI), Tripura, in the list of universities maintained by it under Section 2 (f) of the UGC Act, 1956.


Babu Ram heads hawkers' union
Babu Ram Sharma has been unanimously elected president of the Newspapers Distributors Union here. The other office-bearers are: chief patron - Karam Chand Sharma; senior vice-president - Kishore Chand Sharma; vice-presidents - K.C. Bhalla and Manohar Lal Sharma; general secretary - Arun Kapoor; joint secretaries - Amrik Singh and Surinder Kumar; speakers - Partap Singh Rana and Des Raj.
The new office-bearers of the Newspapers Distributors Union in Amritsar. — Photo by Rajiv Sharma