Energy education park by month-end
Vishal Gulati
Tribune News Service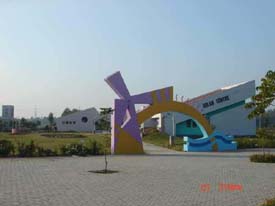 At Pushpa Gujral Science City, near Kapurthala, work on the Renewable Energy Education Park is underway. It will be completed by this month.

Dr R. Sharma, Director, says the Ministry of Non-Conventional Resources has provided funds for the energy park and technical assistance is from the Punjab Energy Development Agency. The park is being set up with an investment of Rs 1.75 crore.

Gadgets are being installed to impart training to students and visitors. The park will have solar power plant of 20 KW, solar water plant, solar streetlights, hydel centre for displaying various turbines, solar home, solar restaurant for exhibiting solar cookers and heaters and a 60-foot-high windmill.

However, for children a mini toy train that runs on solar energy, battery-operated cars and cycles, power generating drum and energy slip will be the added attractions.

Dr Sharma says everyday nearly 1,000 visitors, especially students, are visiting the science city. Spread over 72 acres, the science city opens from 9am to 7pm from Monday to Friday and on Saturdays and Sundays the visiting hours are from 9am to 9pm.

Regarding the future expansion plans, he says four new galleries — the Science of Sports, the Ecology and Environment, the Health and Biotechnology and the Emerging Technologies — will be set up at an estimated cost of Rs 12 crore by March 2008.

The Gallery on Science of Sports will include virtual reality sport shows on cricket, tennis, football, etc, where visitors would enjoy the excitement and challenge of their favorite sports without ever having to set foot on a playing surface and investigate the mechanics of sport around an indoor field. A rock climbing facility will also set up in the gallery.

The Ecology and Environment Gallery would attempt to highlight issues such as global warming and pollution, identifying ways and means to mitigate their adverse effects with the help of models, dioramas, information panels and interactive computer-based programmes with touch screen facilities and plasma display panels.

A special theatre will be constructed, Object Theatre, showing programmes on effects of climate change and global warming. This show will create awareness regarding the causes of global warming, about its adverse effects and how to prevent the climate change in a unique manner with the use of film projection and objects.

The Ministry of Railways has approved to set up a railway gallery in the science city. The gallery will have a steam engine and engine simulators.

The Indian Meteorological Department has installed an automatic weather station linked to the Satellite Kalpana. This will be followed by setting up a satellite receiving station and weather forecasting information system.

In collaboration with the Philatelic Congress of Punjab, the science city will be displaying stamps on scientific subjects as a permanent feature. The stamps would be on scientists, scientific institutions, birds, animals and other related areas. The stamps would be periodically changed.

The science city has launched a totally computer-based learning system for physics, chemistry, mathematics and biology from Class 1 to XII. It would be possible to teach any of these subjects — on demand for any class.

On the demand from the schools and colleges to strengthen the botany-related exhibits, the science city has taken a number of steps.

A herbal garden which will have over 90 medicinal and aromatic plants has been set up. One part of the science city will also have trees of Punjab, which have cultural value.

The assortment of exhibits spanning various disciplines in the science city are basically incubators of scientific knowledge and the emphasis is more on hands-on exploratory learning rather than the formal text-based approach. Through innovative science exhibits, which stress aspects of everyday life.

The Air Force has also allocated one decommissioned MIG 23 for display.

"A dinosaur park is also being set up in an island surrounded by a water body. Indian dinosaurs will be displayed specifically and we are going to get 45 models of dinosaurs shortly," Mr Sharma adds.