My City


Joy, culture & yummy cuisine
Our family, originally from Doaba, decided to settle permanently in Amritsar. It was unanimous and irrevocable. The simple reason - the city has an aura of its own, with beauty, vigour, sophistication and urbanity that is unmatched and compelling.

'Efforts needed to preserve heritage'
Sikhs have made sincere efforts to protect and preserve Guru Granth Sahib but have not made committed attempts to preserve heritage. These remarks were made by Dr Jaswant Singh Neki, former Director of the Post Graduate Institute of Medical and Education Research, Chandigarh, while delivering the keynote address at the inaugural session of the two-day seminar on the "Life and Teachings of Guru Nanak: Evaluation of Main Sources" organised by Guru Nanak Dev University, Amritsar.


Ranjit Avenue losing sheen
Ranjit Avenue is considered a posh area of the holy city, but it is fast losing its status. Developed by the Improvement trust, Ranjit Avenue is in bad conditions now. Residents have voiced concern over its condition but no heed is paid by the authorities concerned.





Stinking avenue

: Garbage dumps and stray cattle greet visiotors at Ranjit Avenue, Amritsar. — A Tribune photo
Pahuwind, an obscure hamlet in the Bhikiwind area of Amritsar, has the distinction of giving the first Indian Head Boy for prestigious Lawrence School, Sanawar.






A file photo of the first batch of Indian students at Lawrence School, Sanawar.
Celebrated writer, columnist, TV serial producer and a socialite-turned-fashion-diva stylist launched a new range of fashion line 'Serendipity' at Satya Paul's show room in the holy city. The style icon was at her brilliant best while interacting with admirers and fans and said it was indeed a dream come true for her to pay obeisance at Golden Temple along with her daughter Arundhati.



Style check

: Shobha De launches her collection Serendipity at Satya Paul showroom, Amritsar. — Photo by Rajiv Sharma
Energy education park by month-end
At Pushpa Gujral Science City, near Kapurthala, work on the Renewable Energy Education Park is underway. It will be completed by this month. Dr R. Sharma, Director, says the Ministry of Non-Conventional Resources has provided funds for the energy park and technical assistance is from the Punjab Energy Development Agency. The park is being set up with an investment of Rs 1.75 crore.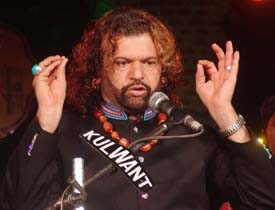 Punjabi Sufi singer Hans Raj Hans performs at Khalsa College during the Amritsar Heritage Festival. — Photo by Rajiv Sharma
DD Punjabi in UK from January 26
Punjabis in the UK will be able to watch DD-Punjabi from January 26. Though the signal of the channel was available in the USA, but Doordarshan was trying to improve the reach of the channel there.
Tarn Taran, Patti win kabaddi titles
Tarn Taran zone boys won the kabaddi title while Patti zone was second at the two-day School Games of Tarn Taran district, which concluded at Tarn Taran.
Zara's perfect world
Zara is a 21-year-old beautiful, sweet natured and well-mannered girl belonging to an upper middle-class Muslim family. She is in love with her childhood sweetheart Samar, a handsome young boy who was her classmate when they studied in the USA. After her studies, Zara comes back to her hometown, while Samar stays back in the USA for further studies.


Another honour for Rashmi
Rashmi Sharma, a gold medalist in law from Guru Nanak Dev University, Amritsar, has added another feather in her cap when she received the 'State Meritorious and Excellence Award'. She had been conferred the award by the Chairman, Punjab State Human Rights Commission, Justice R. L. Anand, at the annual awards ceremony held at Phagwara.
Rashmi Sharma receives the award from Justice R. L. Anand, Chairman, Punjab State Human Rights Commission. — A Tribune photo
Hi-tech sanitation
The Municipal Council, Tarn Taran, has become the first civic body of the state to introduce special cycle-rickshaws fitted with plastic bins to collect garbage from the houses in old parts of the town.




Hi-tech Garbage collection: Cycle rickshaws fitted with garbage bins at Tarn Taran Municipal Council. — Photo by Gurbaxpuri
Dhillon shooting coach for Asiad
Ace shooter Tejinder Singh Dhillon, Deputy Inspector-General, CRPF, Jalandhar range, has been selected as the coach of the shooting team for the Asian Games being held in Doha till December 10.
Award for Dukhi
Mr Amarjit Singh Dukhi, Principal, Mai Bhago Government Polytechnic for Girls, Majitha Road, has been given the prestigious 'Bharat Jyoti Award' by the Indian International Friendship Society (IIFC). The presentation will be on December 7 in New Delhi.


Yatra of faith

The holy city will host the ISKCON-sponsored Bhagwan Jagannath Rath Yatra festival on November 25. The procession will start from Shri Bijli Pehalwal Temple on Lawrence Road at 12 noon and culminate at Durgiana Temple at 7 pm. — A Tribune photo