In service of society
Varinder Walia
Tribune News Service
Central Khalsa Orphanage, where Shaheed Udham Singh stayed, provides a home to young orphans without consideration of caste, colour or religion.
Brittle pages of a register more than a century old, kept under lock and key at the Central Khalsa Orphanage, run by Chief Khalsa Diwan - the oldest Sikh institution show admission entry of Sher Singh (Shaheed Udham Singh) along with his elder brother Sadhu Singh on October 24, 1907. It is the only record, relating to Shaheed Udham Singh's stay at the orphanage that has been preserved by the management. The two brothers were admitted at the orphanage on behalf of Chhanga Singh and Kishan Singh Raagi.
Main tenet of Sikhism is service to humanity. Based on this philosophy, Chief Khalsa Diwan established Central Orphanage in 1904 and Soorma Singh Ashram (Home for the visually challenged) in 1935. The voluntary, charitable institutions have nourished thousands of orphans, destitute and blind children without any distinction and moulded their destiny to make them useful and productive members of the society.

The centre has a garden, a children's park and volleyball and basketball grounds. There is also a gurdwara, and a library with more than 10,000 books, besides spectacular buildings of Simran Kendra and Bhai Veer Singh Guest House, constructed for meditation and residential purposes. A neat and clean dispensary, built in the memory of Sardar Charnjit Singh Ghura of England, caters to the medical needs of inmates.
However, room No 2 where Udham Singh lived with his brother and other inmates was demolished to construct a new building which has been named after him.
Udham Singh was born as Sher Singh on December 1899 at Sunam. His father Tahal Singh was a watchman on a railway crossing in the neighbouring Upall village. Sher Singh lost his parents before he was five. Both brothers were administered Sikh initiatory rites at the orphanage and given new names; Sher Singh become Udham Singh and Mukta Singh was named Sadhu Singh. He died in 1917, leaving young Udham Singh alone in the world.
Udham Singh left the orphanage after passing the matriculation examination in 1918. He was at the Jallianwala Bagh on the fateful Baisakhi, April 13, 1919, when General Reginald Edward Harry Dyer ordered his troops to fire, killing over 1000 people. On July 31, 1940, Udham Singh was hanged at Pentonville jail, London. On June 4, he had been arraigned before Mr Justice Atkinson at the Central Criminal Court, the Old Bailey. Udham Singh was charged with the murder of Sir Michael O'Dwyer, the former Lieutenant-Governor of the Punjab who had approved of the action of Brigadier-General R.E.H. Dyer at Jallianwala Bagh, Amritsar.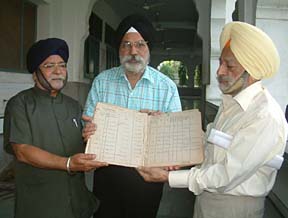 Charnjit Singh Chadha, president, Chief Khalsa Diwan shows the old register where entry of Shaheed Udham Singh was made. — Photo RS
Another treasure trove of the orphanage is 38 rare copies of Guru Granth Sahib. Mr Charnjit Singh Chadha and Mr Bhag Singh Ankhi , president and secretary, showed the spacious room where all the Birs have been preserved according to the Sikh Maryada. There is a small copy of the holy book published by Ramchand Manak of Lahore in Samvat 423, Nanakshahi, an undated handwritten copy of 536 pages, a manuscript of the holy book of 646 pages, a copy published by the Khalsa Orphanage, Gujranwala (Pakistan), another volume with pictures of Lord Krishna and Radha, a Bir published in Peshawar (Pakistan), a stone-block printed Bir of 2,178 pages written in 421 Nanakshahi Samvat and a stone-block printed Bir of 1,554 pages, small copy written in Urdu by Udham Singh and a Gutka in Sanskrit.
Chief Khalsa Diwan has already written to the government for registration of these treasures under the Antiquities and Art treasure Rules, 1973. There is remarkable Gutka of Japuji Sahib (713 pages), first page with golden illustration. It is presumed that this manuscript is more than 100 years old. There is another eye-catching volume of Guru Granth Sahib with illustrations of Raagas and Ragnis.
A senior functionary of CKD, Mr Joginder Singh Kohli says the stone-print Birs were published by Lahore-based Bhai Gulab Singh & Sons, pioneers in this business. The publishing house had stalls at every railway station in the north India.
The orphanage also has Gurkhas children from Nepal, who converted to Sikhism. They sing hymns from the Granth Sahib, play tabla, recite Gurbani and converse in chaste Punjabi. The CKO admits orphans irrespective of caste, creed or colour. The CKO is home to 175 children, including Nepalese. The orphanage was started with one child brought from Sindh (Pakistan) by Harbans Singh Attari. Other founders were Sunder Singh Majithia, Tarlochan Singh and Bhai Veer Singh. All of them were renowned educationists and philanthropists.
Mr Chadha says many Nepalese, brought up in the orphanage have propagated Sikhism in various parts of the world. Many of them were also absorbed in the SGPC. Devoted to Sikhism, they have been exempted from required tests by most Sikh organizations, including the Shiromani Committee. As per constitution of the orphanage, only children above six years are admitted. Mr Chadha says that it was mandatory for every inmate to attain education up to matriculation. For this, the orphanage runs a school and later the children join Khalsa School for higher education. Besides education, training in musical instruments and Shabad Kirtan, musical instruments like tabla, harmonium, dilruba, sitar is imparted to the students in this seminary. The institution has given the Sikh community eminent ragis like Bhai Santa Singh, Bhai Gopal Singh, Bhai Gurmej Singh, Singh Sahib Bhai Fateh. Other alumni of repute include musician Dalip Chander Bedi and Principal S. S. Amol.
The latest entrant in the orphanage is Pardeep Singh (earlier Pardeep Kumar), recommended by the Gurudwara Singh Sabha, Nepal. Mann Bahadur has been rechristened Bahadur Singh. Another student of orphanage is Vinod Singh (previous name Vinod Kumar). Most of the students have forgotten their mother tongue Nepali with the passage of time.
They say they hardly visit Nepal due to the 'communication gap' that virtually has separated them from their roots.
The orphanage on the GT Road near Puttali Ghar is spread over four acres of land.