Divali with a difference
When residents of the holy city celebrated the festival of lights with their families by distributing sweets and cracking crackers, students of Ryan International School and Ram Ashram School celebrated Divali with a difference.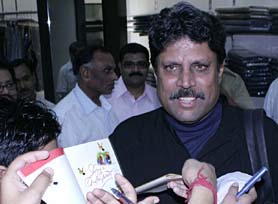 Experiments prerogative of coach, captain: Kapil
The cricket team had the backing of the entire nation and some inconsistency brought instant flak. The Indian team had to give excellent performance all the time but cricket being a game of glorious uncertainties, we should take victory and defeat in our stride. These remarks were made by former superstar of Indian cricket, Kapil Dev, after inaugurating exclusive Reid and Taylor showroom here recently.



Village women carry fodder for their livestock as the sun sets in Amritsar. — Photo by Rajiv Sharma
My City
Bauji — a memorable personality
When one looks back in life, one remembers a few people who mattered. Fewer still leave indelible marks on the society as a whole. Only a few are remembered as institutions.
Computer Science dept win b'ball meet
The Department of Computer Science and Engineering, Guru Nanak Dev University, won the Inter-Departmental Basketball Competitions defeating Electronics Department 35-18. Tejpreet Singh of Computer Science and Engineering Department was the top scorer with 14 points.