'Rescued' & Loved
Vishal Gulati
Tribune News Service
Reshma is a goose that was kept in a small filthy cage along with her friends on display at a restaurant on the Mumbai-Pune highway. Often the birds were teased by visitors and their feathers were dirty and unkempt. They were rescued by volunteers of PETA (People for the Ethical Treatment of Animals).
Today, they live with dignity at a rescue centre where they preen themselves and swim in clean water.
Reshma's is just one of the stories featured in the "Rescued" calendar — 2007 released by PETA to create awareness in the public for animal welfare.
Other stories include PETA chief Anuradha Sawhney rescuing a lizard from the clutches of street boys. They had tied a string around its neck and put it on a stick.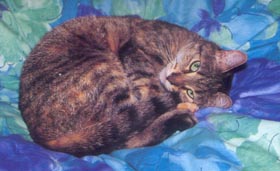 On her intervention, the boys ran away, leaving the lizard behind on the road to die. She removed the noose from her neck and released it into its natural habitat.
The calendar says whenever you see anyone mistreating an animal, immediately intervene and explain that animals too feel pain and deserve respect.
Another leaf of the calendar shows adorable Pepper, an abandoned dog. A PETA staffer noticed the dog on the road. He got it treated. Since then Pepper has become an indispensable part of his household.
Pepper was purchased from a pet shop. The owner of the shop claimed that Pepper was a purebred Pomeranian. When the owner took it to a veterinarian, he came to know that the dog was of mixed breed. He abandoned it.
The calendar says never buy a pet from a breeder. Adopt stray animals, have them sterilised, and let them share their life with you.
Paro, a donkey, was deserted by a 'rehrawala' on the streets of Solapur. When it could not manage heavy loads, the owner left it to die. It was suffering from dehydration, sores, muscle strain and depression from being subjected to beating, before it was rescued.
Similarly, Raja, a horse, and Lakshya, a bullock, are being rehabilitated at a rescue centre under the Animal Rahat programme.
The calendar says never patronise animal rides. The animals used for such rides are often made to work in sweltering heat with little food. If you see any animal forced to give rides, report it to your local animal shelter or animal organisations like the SPCA and the PFA.
Another story is about Mili, the lamb, who had been caged at a slaughterhouse in Mumbai. When rescued, it was in a terrible state. Its mother had just been slaughtered.
If you see anyone illegally transporting or slaughtering animals, call animal organisations or the police.
Other rescued animals include a camel named Rakhee, lions Simbha and Sheena and a turkey, Gollum.
Says chief functionary of PETA Anuradha Sawhney: "The animals cannot speak for themselves, so it is up to us to speak for them."