It felt so right. It still does

Love at first sight… sounds a bit too cute, but is true at times, at least was for Karan & Ganimat Sood
We met for the first time in December 2001 at the Panjab University. Ganimat was a masters' student and I was a speaker for a seminar. She was bubbly and charming, but firm and assertive. I had just returned from England with a masters' degree. She was also my sister's best friend.
And as she now tells me, I really didn't make a very good first impression. But as time passed by, we got to know each other well and feelings grew. I proposed to her at my sister's wedding.
Being from different backgrounds, we thought our parents might object. She came from a well-educated Sardar family of Chandigarh while I belonged to a Hindu business family based in Ludhiana.
But they supported our relationship. We are very lucky to have parents like them. I used to visit Ganimat often and her family was and is very fond of me. Our courtships lasted for almost a year and believe me those were golden days! Before we even knew, we got married on December 2, 2003...
Post-wedding, couples usually go on a honeymoon and then return back to normal life. However, we shifted out of our parents house to look after a project in the hills pretty close to Shimla and have been on a honeymoon ever since!
I am a real estate developer and she is my interior designer. We think that life is all about understanding, adjusting and standing by each other through thick and thin. We were blessed with a daughter – Gayatri — in the spring of 2005 and we fell in love even more!
Time has been flying ever since and we are enjoying the joys of parenthood. Now, the three of us live together in the tranquility of the hills — with each other, for each other…
For Rashim & Arjun Malik the birth of their daughter strengthened their bond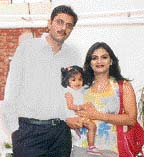 It was the summer of 1997 and just another day of my life or so I thought. It was the first day of class at a study academy when our destinies crossed. I can still vividly remember myself rushing late into class and sitting on the only vacant chair beside a young man, knowing little that he was the one fate had chosen for me.
For the entire two months that were to follow, we didn't exchange much conversation apart from the regular greetings. On the last day of the two-month long tutorial when I entered class I didn't see him there. He had already left for home and I felt the sudden pangs of missing something or someone, definitely not just a friend.
Soon after, one of our common friends walked up to me and handed me a note. My heart skipped a beat to learn that it was from the same man, who for a moment, I thought I would never meet again in life. It indeed was destiny! The note was actually brief and just a goodbye and had his contact numbers.
After a few months of hesitation, I finally called him up and talked to him. It felt like I had always known him. Henceforth, started a sweet courtship that lasted four years and culminated in our marriage in 2001. We have always stood by each other through the fog of uncertainty as we fought our way through to convince and change the minds of two sets of resisting families. It simply felt right to be together and I guess that was where we drew our strength from.
The euphoria of finally getting married was extended and sealed with the birth of our daughter Anoushka in 2003. At this juncture, when I thought that life had shown me all the facets of this relationship, I was pleasantly surprised to see a tender daddy unfold in my husband and the bond between us grew only stronger.
It is oft said that most couples have a seven-year itch but somewhere this chemical theory fails with us. Even today we enjoy many blissful moments and have nurtured the relationship with such delicacy that the freshness of it still exists and would exist forever. Hug wood…
Way to her Heart
The shortest possible route to a woman's heart is to buy her the piece of jewellery she had always longed for. And this is the time to pick it up, for as Valentine's Day approaches, the market gets bigger and better.
Chocolates, known for their 'love boosting' characteristics are making a grand entry in the market for the D-day. For so many youngsters picking gifts for their beloved, chocolates are the safest option as they leave no tell- tale signs behind.
The Valentine bug has bitten the young and the old alike. If this is the day for the youngsters to profess their love, then for the elder ones, this is an occasion to rejuvenate their romance in their married life.
Saying it with roses has never lost its charm. This year roses have found a place with dress designers too. If you are skeptical about it, listen to these youngsters who feel that St Valentine's Day is nothing without a bunch of roses in hands and on dresses.
Have a similar love story? Email us at lifestyletribune@gmail.com or write in at Lifestyle, The Tribune, Sector 29-C, Chandigarh. And don't forget to send us a couple picture. We will publish the best three stories next week. Watch this space!