Poll eve weather: It's raining liquor, ration
Dharmendra Joshi
Tribune News Service
Jalandhar, February 12
If the weather forecast proves true, rain may continue in the region for the third consecutive day on Tuesday. But inclement weather notwithstanding, political parties lavishly dished out food and liquor to lure voters to their fold.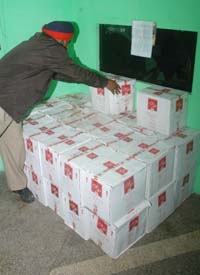 A policeman counts the cases of liquor that were seized from a house in Jalandhar. — Tribune photo by Pawan Sharma
Another spell of rain, may dampen the spirit of the voters to join the queues and vote in large numbers, according to poll managers.
The district administration has, however, made all arrangements for the free and fair conduct of elections in all the 10 seats of the district here today.
The poll parties and EVMs were sent to all the polling booths, DC cum DRO Mr. A. venue Prasad said, adding spare EVMs were also provided to ROs for their use in case of fault in any machine.
According to the SSP, Mr Naunihal Singh, elaborate security arrangements have been made to maintain law and order on polling day. Security personnel of para military forces were deployed in 386 sensitive and hyper sensitive booths of the district.
Jalandhar district will have 1351 polling booths for 13.61 lakh voters.
Mr Prasad said no political party or the supporters of a candidate would be allowed to set up a booth within 200 metres of a polling station.
Further no one would be allowed to carry mobile phones within 100 metres of the polling stations.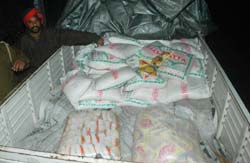 Bags of ration items which were recovered from Amrik Nagar, Jalandhar. These bags were to be distributed among voters. — Tribune photo by Pawan Sharma
Meanwhile, the distribution of liquor and money was reported from several areas of different constituencies throughout the night.
The DRO said electors whose names included in the roll but were not issued photo-I cards may cast their votes by establishing their identity by showing passport, licence etc. Ninety five percent of the electors were issued I-cards, he added.
Meanwhile, the police has found as many as 38 cases of liquor and several bags of eatable items from different parts of the Jalandhar Central constituency.
While the liquor was recovered from the house of Gurnam Singh of Santokh Nagar, the bags of eatable items were seized at Amrik Nagar from Shekhar Gill of Kala Bakra. The SHO of police division number eight Harbhajan Singh said that FIRs had been registered.
Phagwara: The police arrested Ravinder Singh under the Excise Act and seized 10 cases of whisky from a Maruti van on Sunday night.