PUNJAB

HARYANA

JAMMU & KASHMIR

HIMACHAL

REGIONAL BRIEFS

NATION

OPINIONS

MAILBAG

BUSINESS

SPORTS

WORLD

SAD FOR CONG
* Urban shock does Amarinder in
* BJP claims unexpected successes

Chandigarh, February 27
Upholding convention, the Punjab voter favoured a change, giving the SAD-BJP alliance a chance to govern the state after a fierce electoral battle.

'I am disappointed. The urban voter ditched me... — Amarinder Singh after defeat


He's back

'The dark and corrupt legacy of despotic dictatorship stands thoroughly rejected and defeated as Punjab embarks on a new journey of hope and optimism...
— P.S. Badal, CM-to-be, after his victory


Family mix but most Badal kin win
Dalit seniors bite dust
Chandigarh, February 27
It is a mixed bag as far as performance of close relations of political leaders is concerned. Capt Kanwaljit Singh from Banur won with a convincing margin but his son Jasjit Singh Bunny lost to Balbir Singh Sidhu form Kharar.

Victory of clean polity, says Badal
Malout, February 27
Jubilant over the victory of the SAD-BJP alliance in the Assembly poll, SAD supremo Parkash Singh Badal termed the mandate given to the combine by people of Punjab as "victory of clean polity over rough tactics, a triumph of statesmanship over stuntman-ship".


SAD supremo Parkash Singh Badal makes the victory sign during a press conference in Malout on Tuesday. — Tribune photo by Kulbir Beera
Alliance sweeps Majha
Amritsar, February 27
The Panthic Morcha support to the rebel Akali candidates notwithstanding, the SAD-BJP combine has won 23 out of 26 seats in the Majha belt, comprising Amritsar and Gurdaspur districts. Most of the rebel candidates have failed to save their security deposits.
Punjab BJP wants DCM post
Chandigarh, February 27
Knowing full well that it holds the key to the formation of the Badal-led government, the Bharatiya Janata Party, will stake claim for the post of Deputy chief minister. It is for the first time in Punjab that the BJP will hold a position of importance on the political scene.


Special fund for cheap atta, dal: Kanwaljit
Chandigarh, February 27
Spelling out the economic agenda of the new SAD-BJP government in Punjab, Capt Kanwaljit Singh today reiterated the alliance's commitment to implementation of the election manifesto in to including cheap atta and dal for the poor. "The Rs 4 atta and Rs 20 dal for the poor is not just a pre-poll promise but a commitment for which a separate fund would be earmarked," Capt Kanwaljit Singh, who won by a whopping margin of 42,651 votes from the Banur assembly segment said in an interview here today.

A relaxed Capt Kanwaljit Singh of the SAD at his home in Chandigarh after the poll results.

Supporters add colour to merriment
Chandigarh, February 27
The poll drama showcasing the rise of the Badals in the assembly elections unfolded itself during the 9am to 2 pm show in the city with young Akali Dal-BJP supporters playing their part in the celebrity game show.

SAD gen secy Sukhbir Singh Badal and his wife being greeted over the party's victory at their residence in Chandigarh on Tuesday. — A Tribune photograph







Prominent Winners


Ludhiana (Rural): Heera Singh Gabria, SAD-BJP

Abohar: Sunil Jhakar, Congress

Lehragaga: Rajinder Kaur Bhattal, Congress

Dasuya: Amarjeet Sahi, SAD-BJP

Kot Kapura: Ripjit Brar, Congress

Mukerian: Arunesh Shakar, SAD-BJP

Rajpura: Raj Khurana, SAD-BJP

Jalandhar (North): K.D. Bhandari, SAD-BJP

Jalandhar (South: Bhagat Chuni Lal, SAD-BJP

Jalandhar (Central): Manoranjan Kalia, SAD-BJP

Adampur: Sarabjit Singh Makkar, SAD-BJP

Hoshiarpur: Tiksan Sood, SAD-BJP

Garhshankar: Lov Kumar Goldy, Congress

Payal: Tej Parkash Singh, Congress

Jagraon: Gurdip Singh Bhaini, Congress

Ludhiana (West): Harish Rai Dhanda, SAD-BJP

Qila Rai Pur: Jassi Khangura, Congress

Ludhiana (East): Satpal Gosain, SAD-BJP

Khanna: Bikramjit Singh Khalsa, SAD-BJP

Malerkotla: Razia Sultana, Congress

Let down by urban voter, says Amarinder
Chandigarh, February 27
" The urban voter let us down. What went wrong on this front, I would analyse with my party colleagues", said Capt Amarinder Singh, commenting on his party's defeat this afternoon before leaving for Punjab Raj Bhavan to submit his resignation to the Governor. He left for Delhi to meet senior leaders of the party. "We did a lot for the urban areas, for traders. We created a lot of infrastructure in main cities and provided drinking water and other facilities. But urban voters have not gone our way."



Capt Amarinder Singh
Amarinder's hold on Patiala unshaken
Patiala, February 27
Capt Amarinder Singh has virtually led the Congress to make a near clean sweep in the assembly segments falling in Patiala district. The Congress picked up five seats in this constituency, one was bagged by the BJP and one went to an Independent while the Akalis failed to open their account.


Bajwa lone survivor in Gurdaspur
Gurdaspur, February 27
Gurdaspur district kept its tradition of voting for alternative parties in assembly elections. The district, a major part of the Majha area, rocked the boat of the ruling Congress. The result this time was the reverse of what is was in the last assembly elections. In the 2002 assembly elections, the Congress bagged 10 of the 11 seats in the district. The SAD got just one. In the results declared today, the SAD/BJP has bagged 10 seats while the Congress has been reduced to just one seat.


Partap Singh Bajwa

Mixed bag for SAD-BJP alliance
Rajpura/Ghanaur, February 27
It was a mixed bag for the SAD-BJP alliance in the Rajpura-Ghanaur belt in Amarinder Singh's home district. Congress rebel Madan Lal proved a giant killer in the Ghanaur assembly segment, defeating two former ministers, Jasjit Singh Randhawa (Congress) and Ajaib Singh (SAD-BJP). In the Rajpura assembly segment, Raj Khurana, who switched over from the Congress to the BJP just ahead of the elections, retained his seat by defeating Congress rival Hardyal Kamboj by 14,190 votes.

SAD-BJP candidate Raj Khurana being taken in a procession after his victory in Rajpura on Tuesday.
— Photo by J.S. Virdi


Khaira defeats Bibi, breaks SAD bastion
Kapurthala, February 27
In a setback to the SAD its heavyweight Bibi Jagir Kaur lost in Bholath, which was considered a citadel for the Akalis. Bibi was defeated by her arch rival Congress candidate Sukhpal Singh Khaira by 8,864 votes. While Khaira managed to poll 48,072 votes, Bibi could get only 39,208 votes.
Former militant Virsa Singh Valtoha wins
Amritsar, February 27
It was for the first time that the Congress and the SAD had fielded each candidate with a militant background. While Congress candidate, Harminder Singh Gill lost to Adesh Partap Singh Kairon, son-in-law of Parkash Singh Badal by a margin of 9,947 votes from Patti, Virsa Singh Valtoha, of the SAD-BJP won the Valtoha seat from Congress candidate Gurchet Singh Bhullar with a margin of 11350 votes.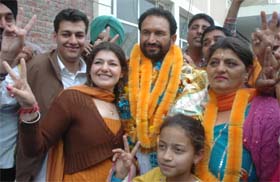 Independent candidate for Ghanaur constituency Madan Lal with his family members celebrates victory in Patiala, on Tuesday. — Tribune photo by Rajesh Sachar

Morinda dist rejects Kang, Bunny


Morinda/Kharar, February 27
Winds of change swept the Morinda constituency with sitting MLA and minister Jagmohan Singh Kang losing the seat to Shiromani Akali Dal's Ujagar Singh Badali.

No politics of vendetta: Sukhbir


Chandigarh, February 27
General secretary of the Shiromani Akali Dal Sukhbir Singh Badal today chose to focus on future policies and made it clear "there will be no politics of vendetta as unleashed by the Congress during its regime".
Politicians who defected gained at the hustings. Few persons whom Amarinder Singh had helped enter the Congress have won. Makhan Singh has won on the Congress ticket from Pacca Kalan. In 1997 he had won on SAD ticket while Sher Singh Gagowal an Independent was drafted into the Congress he won from Mansa.


The women score — seven out of 55
Chandigarh, February 27
Punjab's electorate is in no mood for women's empowerment, or so says the result of assembly polls. Of the 55 women in the fray, only 7 have got elected. The performance of women has, in fact, deteriorated over the last elections in 2002 when eight out of the contending 70 women had won.


Former Deputy Chief Minister Rajinder Kaur Bhattal at a victory rally in Lehragaga. She won by just over 200 votes.
Narrowest winning margin was 86


Chandigarh, February 27
There were as many close contests. While outgoing Capt Amarinder Singh defeated his SAD rival by a whopping 32,742 votes from Patiala town, his deputy Rajinder Kaur Bhattal just about managed to hold on to Lehragaga by 254 votes more than her SAD opponent Prem Singh Chandumajra.
Call it the Amritsar jinx but the fact is that all non-Congress MPs, elected from this constituency in the post-Independence India, have failed to complete their full term of five years.

Babudom
Ramesh Inder Singh may be new chief secy
Race hots up for principal secy to CM
Chandigarh, February 27
With the Shiromani Akali Dal-Bharatiya Janata Party (SAD-BJP) alliance returning to power in Punjab, major changes in the administrative setup of the state are on the cards.


Punjab advocate-general Rajinder Singh Cheema today resigned immediately after the defeat of the Amarinder government. He called on Chief Minister Amarinder Singh at his official residence in the afternoon to hand over the resignation which has been accepted, it is learnt.

Former colleagues of Badal lose
Chandigarh, February 27
Even as a large number of sitting Congress ministers have lost their seats , many former ministerial colleagues of Parkash Singh Badal have also lost at the hustings. Observers say that Badal would have to fall back on new MLAs while forming ministry.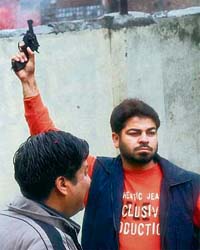 A BJP activist fires into the air to celebrate the party's victory at the BJP office in Amritsar on Tuesday. — PTI


The Congress has retained the seat with much improved margin of 18,500 votes in the victory of Sunil Jakhar, the youngest son of Madhya Pradesh Governor Balram Jakhar. He had won by 7,342 votes in 2002.
The Congress has almost been wiped out in its stronghold Doaba region. However, Kapurthala district is an exception where the party managed to secure 50 per cent seats. The Congress has got only four of 25 seats in the Doaba region.
Today's results for the 116 seats of the Punjab Vidhan Sabha hold out an important lessons to crorepati candidates: Money can't always ensure victory. A large number of crorepati candidates lost at the hustings, with many not even among the first three.

Victory march of Kangar stoned; 5 hurt


Bathinda, February 27
Nine persons, including four women and a child, were injured when a group of men pelted stones at the victory procession of Congress candidate from Rampura Phul Gurpreet Singh Kangar at Bhagta Bhai village here today.

Mann loses from Phagwara
The BJP-SAD candidate, Ch Swarna Ram, wrested the seat from the Congress candidate and former Cabinet Minister, Mr Joginder Singh Mann, by defeating him with a margin of 9,605 votes. The result was withheld for one hour and a half due to a snag in one of the electronic voting machines.

Kanwaljit Singh hat-tricks in style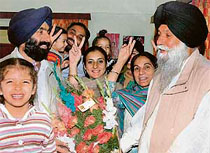 Dera Bassi, February 27
Riding on the wave of anti-incumbency, the former finance minister and the SAD-BJP candidate from Banur, Capt Kanwaljit Singh, today secured a hat-trick defeating his nearest rival and the Congress candidate Rakesh.
Capt Kanwaljit Singh, SAD-BJP candidate from Banur, celeberates his victory with family members at his residence in Sector 9, Chandigarh, on Tuesday. — Tribune photo by Manoj Mahajan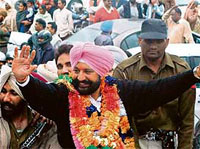 Third-time lucky for Morinda, Kharar winners
SAD (Mann), independents also-rans
Kharar/Morinda, February 27
The winning candidates from Kharar and Morinda proved to be 'third-time lucky' today.

Balbir Singh Sidhu and his supporters enjoy victory celebrations in Mohali on Tuesday. — Tribune photo by Vicky Gharu
SAD wins Anandpur Sahib, Cong takes Nangal
Chamkaur Sahib goes to independent
Ropar, February 27
In a mixed verdict in the three assembly segments in the district, SAD patron Sant Ajit Singh won from Anandpur Sahib by defeating two-time Congress MLA Ramesh Dutt Sharma, while K.P.S Rana of the Congress defeated three-time MLA BJP heavyweight Madan Mohan Mittal in Nangal segment today.
INLD celebrates SAD-BJP victory
Panchkula, February 28
If supporters of the SAD-BJP combine celebrated their win in the Punjab elections, the city, too, rejoiced as activists of the Indian National Lok Dal (INLD) distributed sweets in the city markets.