PUNJAB

HARYANA

JAMMU & KASHMIR

HIMACHAL

REGIONAL BRIEFS

NATION

OPINIONS

MAILBAG

BUSINESS

SPORTS

WORLD


Every Wednesday & Saturday

For Amritsar city, the problem never seems to end. Considered to be the 'Mecca of Sikhs' and one of the cities having highest number of tourists, the word perfection appears to be a distant dream.
This barber is among many others who have opened their shops on the footpaths of The Mall, Amritsar. — Photo by Rajiv Sharma
Pressure horns blare despite ban
Despite a ban on the use of pressure horns for bus and truck operators in the vicinity of the corporation limits, the drivers continue to flout the norms leading to near deafness to the pedestrians and causing irreparable physical ailment.
Winter wear for a song
As sun turns cruel, it's time to shed the armour against the biting cold. A visit to the garment showrooms in the city reflects it all. While off-season sales are ensuring that the send-off to winter shopping doesn't go unsung, the order of the approaching season, namely summer clothing, is steadily weaving its way into the display shelves.
Dhaba collapses
The building of Vashno Kundan Dhaba, located opposite Railway Station, caved in on the night of March 21 following incessant rains in the city.
Youth remember role model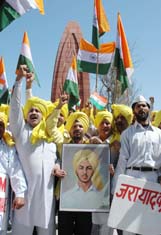 Activists of the All India Anti-Terrorist Front pay tributes to Shaheed Bhagat Singh on his 75th death aniversary at Jallianwala Bagh in Amritsar.
Photo by Rajiv Sharma