A reunion goes up in smoke
Varinder Walia
Tribune News Service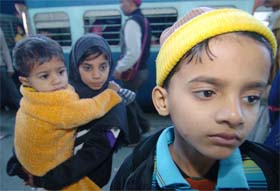 Blast survivors at Attari apprehensive of the ride to peace and friendship. — Photo by Rajiv Sharma
Unveiling his vision of regional integration for the first time on January 8, Dr Manmohan Singh, Prime Minister, hoped one could have breakfast in Amritsar, lunch in Lahore and dinner in Kabul!
While borders in rest of the world are the most attractive sites, the secluded Wagah always earned flak from tourists. Traders of Amritsar and Lahore were buoyant with the vision presented by Prime Minister who belongs to the Holy City.
The prices of land on the Wagah road skyrocketed with the investors from New Delhi started pumping in huge money. The poor farmer became affluent overnight.
The fervent desire of the Prime Minister to improve relations with Pakistan, however, suffered setback when two crude bombs exploded inside Samjhauta Express near Panipat on Monday, sparking a fire in which at least 68 passengers, including an unknown number of Pakistanis, were trapped to death.
However, the untold agony notwithstanding, both India and Pakistan described the incident as "attack on peace".
The Indian Government called the incident an act of terrorism.
Describing the blasts near Panipat as a heinous crime, the President of Pakistan, Gen Pervez Musharraf, said he would not allow elements opposed to the India-Pakistan peace process to sabotage the dialogue.
The positive stand taken by India and Pakistan following the blasts has raised a ray of hope that one day the vision of the Prime Minister that "one could have breakfast in Amritsar, lunch in Lahore and dinner in Kabul" could be achieved if Samjhauta Express continues its journey.
The vision of the Prime Minister, if implemented, would usher an era of great development for Amritsar that remained neglected after fall of Sikh "rule" with the death of Maharaja Ranjit Singh. However, the vision that the Prime Minister presented before a select gathering at a function in New Amritsar on September 1, 2004, to mark quad centennial century of Guru Granth Sahib was one of converting the Holy City into not only a heritage site but also a modern and vibrant business entity.
Dr Manmohan Singh during his day-long visit to his hometown had won hearts by his humility and sincerity of purpose.
He began his address by invoking the name of the Gurus. The text of his address was: "Wahe guru ka Khalsa, wahe guru ji ki fateh. Mein ek adna Sikh hone de nate Guru Granth Sahib nun namaskar karda han. Mainu 1947 de din yaad aa rahe han jadon main is shahr vich sharnarthi ban ke aya si. Mein Amritsariyo nun namaskar karda han. Mein bharatiye gantantra nun vi namaskar karda han jinne mainu pradhan mantri da ahuda bakshiya."
In his 20-minute speech, Dr Manmohan Singh had assured that the Government of India would ensure UNESCO heritage status for the Golden Temple by next year (2005) which could not see the light of the day since the SGPC itself has passed a resolution to withdraw the entry.
The Prime Minister promised to clear the proposal for creating a Rs 1,100-crore Special Economic Zone for Amritsar that could not be implemented due to farmers' agitation. He had hoped that SEZ would generate employment for 5,500 persons. This project too could not be implemented following agitation by the farmers.
Dr Manmohan Singh tried to repay his debt to his city by announcing a large package for its growth and development.
However, most of the announcements made by him could not be implemented so far.
For example, Dr Manmohan Singh had promised to convert the local historic Gobindgarh Fort into a national museum. The fort is under the Army control and is in bad shape and could not be transferred to the civil authorities so far.
Similarly, another announcement of Dr Manmohan Singh that the National Committee on celebrations of 400th anniversary of Guru Granth Sahib would extend full support and cooperation for setting up the National Centre for Guru Granth Sahib and Research at Guru Nanak Dev University still remains on papers.
The foundation stone of this centre was laid by the President, Dr A.P.J Abdul Kalam.
The speech of Dr Manmohan Singh during his visit to the Holy City on December 20, 2006, had showed his love for his hometown.
He stated: "Memories of Partition and his own travel from Pakistan to Amritsar came vividly to my mind…in many ways, Amritsar is my home. In 1947, when India gained Independence, my family settled in Amritsar. I still have fond memories of Amritsar of those days. Amritsar was a leading city, not only of India but also of the entire region.
Amritsar was the foremost centre for India's trading and commercial relations with Afghanistan, Iran and Central Asia. It was a magnificent and prosperous city where people came not only to pray at Harminder Sahib but also to make their fortunes.
The Partition that occurred at the time of Independence caused a great deal of harm to the industry and trade of Amritsar. Ancient trading routes got cut off and the border rose like a wall very close to the city.
It is my earnest hope and desire that Amritsar once again regains its lost glory. Since 1947, while saying one's morning prayers (ardas) every morning, every Sikh has been expressing the wish and fond hope that they should once again have easy access to those religious places which are now in Pakistan.
Our government has been working hard and making every possible effort to make this a reality. As a result of our efforts, many bus services have started between the two countries, the benefits of which have accrued to the people of Punjab as well. Bus services continue between Amritsar and Lahore and Amritsar and Nankana Sahib.
I am confident that if we continue on this path of peace, then Amritsar can once again regain its glory as a major centre of trade and commerce. I believe that this is possible and we will make it happen. This is not a dream, it can be a reality.
If the border areas of Punjab have to develop rapidly, then such a treaty is essential. I am aware that the residents of border areas of Amritsar, Gurdaspur and Ferozepore have been facing a lot of difficulties because they live close to the international boundary. There are difficulties in cultivating their fields and prospects for industrial growth appear poor.
If we are able to increase our trade and commercial relations with Pakistan, these deprived areas would certainly benefit a lot."
Dr Manmohan Singh is perhaps the first Prime Minister of the country who addressed the Sikh community as "Panth" in his speech, the terminology used by the Sikh organisations.
At the flagging-off ceremony of the Amritsar-Nankana Sahib bus service between India and Pakistan he said: "I am extremely happy to be here in Amritsar on this very important occasion of the launch of a regular bus service between Amritsar and Nankana Sahib. This is indeed a memorable day for Punjab. This is a historic day for the entire Sikh community, both in Punjab and elsewhere. This is a historic day for the Panth.
Ever since the Independence of our country in 1947, every morning, every devout Sikh prays to let us have free access to the Gurdwaras left behind in Pakistan. And among the Gurdwaras, Nankana Sahib is the holiest and most important.
Our government has made sincere efforts in this direction and this bus service between Amritsar and Nankana Sahib is a result of this. This is an emotional day for every Sikh.
The journey of peace must be based on a step-by-step approach, but the road must be travelled. As an ancient saying goes, a road is made by walking. I am happy that we are moving forward and creating a road. One step after another. Even though many hurdles have come along the way. The bus service from Srinagar to Muzzafarabad was one step. The rail link from Munnabao to Khokrapar was another step. The steps we have taken to promote trade and to make travel and transport easier are all small but important steps forward. Today, we take another step. A historic step. This bus service from Amritsar to Nankana Sahib renews an emotional bond between the two sides of the border."