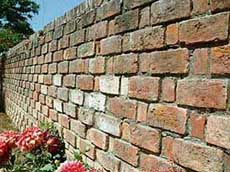 Shelter Baker
Laurie Baker had quite a fan following among architects in the city of Italian marble and teak bungalows, as Parbina Rashid finds out
In a city where architectural grandeur is getting restricted to false ceilings, concealed lighting and French windows, one would presume that Kerala's Brick Master Laurence Wilfred Baker exists only in Gautam Bhatia's Laurie Baker's Life, Works and Writings. But that's not so. Though the city cannot boast of an original Laurie Baker structure, there is a category of architects highly inspired by him.

Laugh 'n' Work
It's Laugh at Work Week. So, beat the grind with a smile, says Purva Grover
Meeting with the clients, presentation at office, pressure of meeting targets and dealing with li'l tiffs at the workplace-that's what defines 'work' for most of us today. Not only, has the 'nine to five' job surpassed all boundaries of working hours; stress has emerged as the new phenomena of modern corporate lifestyle. With remarks like, "I have been so busy this month" and "My job is very stressful", being heard more than often, it seems that the workaholics have long forgotten to smile at the workplace.
Business value of laughter

Did you laugh at work today?
Treasure Trove
World of tech-savvy Ganesha
Smriti Sharma
In Rajesh Kochhar's house, Lord Ganesha reads a book and has a telephonic conversation
It's a collector's world. Everything right from the tiniest pin to the biggest art piece, they all find a place under the sun. Among such collectors, stands out Dr Rajesh Kochhar, Professor of Pharmaceutical Heritage, NIPER (National Institute of Pharmaceutical Education and Research), Mohali. He has a unique collection of about 200 dhokra brass craft items from East India that include animal figurines like elephants, bulls, birds to old diya stands, gods and goddesses.
youth speak
Master your destiny
Sundeep Tyagi
Why would you want to work for someone else when you can work for yourself? Why answer to a grumpy boss or hear co-workers whine. Personally, I would rather work for myself and know that everything that I am doing is helping me.
New Releases
Boom time for Kangna
Shakalaka Boom Boom
Director: Suneel Darshan
Cast: Bobby Deol, Celina Jaitley, Upen Patel, Kangna Ranaut
Filmmaker Suneel Darshan is known for his all-consuming passion to work on one film at a time. After Dost', Suneel is ready to take centrestage with his new film Shakalaka Boom Boom, most part of which has been shot in South Africa. The locales of Johannesburg provide the perfect backdrop for the flick.
No longer toxic
Formerly puffy and washed-out pop star Britney Spears, has nowadays begun to look pink and fitter than earlier. And the secret of the quick transformation is the body -friendly fitness regime that the singer has been following after her stint in Promises rehab in Malibu.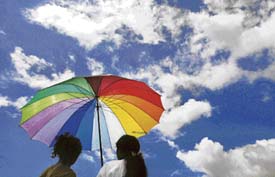 SUMMER COOL
Combat the scorching sun-rays by going all natural this summer,
says Purva Grover
Stunning like sunshine!
The sun is here and so are the li'l beads of sweat to spoil that striking look. Summer make up is all about protecting the skin from exposure to harsh rays and tackling the oily shine, say the city's fashion gurus. "The natural look will be preferred this season," they chorus. Lots of frosted colours in pink, beiges, peaches and browns is what the city will be wearing this season.
SIDELANES
Alone & independent
Joyshri Lobo
All the way from Tezpur in Assam to Chandigarh… it is a long journey for a tiny woman. Her father studied with the parish priest in Goa. Both went back to Assam and then Seema came to study at the mission school in the city when the priest was posted here.
Little Interview
Following his dreams
Lifestyle chats up with the Brit-born model-turned actor -Upen Patel, the heartthrob of the film industry. Upen set the ramp on fire by winning the MTV style award. He has also modelled for brands like Hugo Boss, Paul aSmith, Zegna, and the most recent campaign with Provogue. The macho matinee idol is now busy carving a place for himself in the tinsel world.
Season in the sun
Smriti Sharma
Tired of going to same old usual furnishings store. Well Seasons Furnishings, a home furnishing brand provides you with a solution. A one-stop shop, to end your struggle to get that particular beige for your upholstery you have been looking for.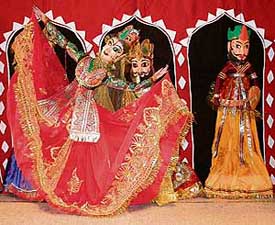 STRINGS of hope
S. D. Sharma
The city saw all the leading practitioners of the art at the ongoing festival and exhibition of Indian puppetry organised by Sangeet Natak Akademy and Punjab Arts Council. A few participating puppeteer directors share their views with Life Style on puppetry traditions and emerging trends.
Arty facts
Parbina Rashid
The turbulence and peace of Vietnam comes alive on canvas
It's time to look at art as an investment. This is what Gaurika Miglani, a Singapore-based art curator tells us. And to acquaint us with the international art scene, she brings us the works of seven Vietnamese artists to begin. "After Indian artists, Vietnamese artists are the ones to look out for in the South-East Asian market," she shares.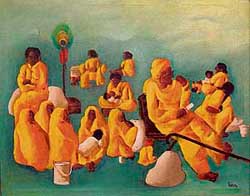 We, the artists
It's that time of the year when women artists of the city get together and showcase their talent. The banner is all too familiar 'We' and so are the faces of the artists. For, this is the fourth annual exhibition of this 'non-political self-sustaining group of women, from various walks of life who are driven by their passion for art'.
---