Virsa Sambhal: Artists' panel to be set up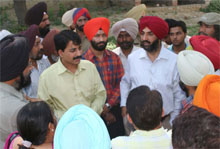 Amritsar, April 6
Visiting the Virsa Sambhal Kendar, Deputy Commissioner K.S. Pannu today said administration would soon constitute an advisory panel consisting of artists, painters and other connected with cultural activities to run the organisation.


Deputy commissioner Kahan Singh Pannu listens to artists' grievances at Virsa Sambhal Kendar in Amritsar. — Photo by Rajiv Sharma

UP IN ARMS
PSMDTA rejects govt's move on retirement age
Amritsar, April 6
The Punjab State Medical and Dental Teachers Association (PSMDTA) has decided to go against the state's move of increasing the retirement age of medical teachers from 58 to 60.
Grannies' day-out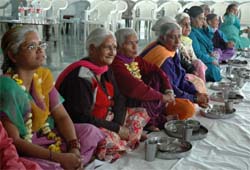 Mentally-challenged elderly women wait for the langar at Vidya Sagar Institute of Mental Health in Amritsar. — Photo by Rajiv Sharma
Balle balle: Event guru Tanya takes city to world
Amritsar, April 6
City girl Taniya Chatha has notched up many famous events in India as well as abroad during her four-year-long successful reign in fashion designing and event management, besides being a classic handicraft artist.
Flying Cats are here
Amritsar, April 6
With fifteen new airlines likely to hit the Indian skies by the year 2008 as per the recent surveys and 20,000 new passengers were being added every day, there was a greater demand of trained professionals in the booming aviation industry.
Redefining ghazals


Amritsar, April 6
He wants to redefine 'ghazals' with shorter and peppy versions and simplified pronunciation, aiming at catching the fancy of youth. Audience would get a chance to hear the innovative form of 'ghazals' in his maiden album expected to be out by the end of this year.

Ramesh Bhagat
'Ensure one-time settlement for sick units'
Amritsar, April 6
Various industrialist associations here have urged Chief Minister Parkash Singh Badal to subscribe to the policy of one-time settlement of all the ailing units in the border districts of Punjab.
Rly station bears brunt of MC apathy, turns into dumping ground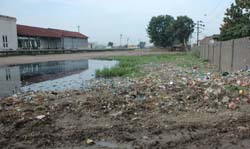 Amritsar, April 6
Heaps of garbage greet passengers alighting at the Chheharta Railway station. Due to absence of regular garbage disposal by the municipal authorities, residents of the adjoining colonies say they have no choice but to use the open space along the boundary of the station as dumping ground.
Garbage galore: Waste matter littered along the boundary wall of Chhehratta Railway Station. Photo: Rajiv Sharma