Tamim overwhelmed by Dravid's gesture
Barbados, April 10
After spoiling India's party in the cricket World Cup, young Bangladeshi opener Tamim Iqbal treasures the good words showered on him by rival skipper Rahul Dravid.



Bangladeshi opener Tamim Iqbal scripted one of the most stirring moments of his nation's cricket history when he scored a half-century in stirring fashion and helped his team to defeat India.
— AFP photo
Fans in, team out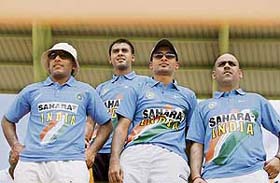 Indian cricket fans watch the Super Eight match between South Africa and Bangladesh at Guyana National Stadium in Georgetown. Hundreds of Indian fans, who dreamt of seeing Team India take on South Africa here, were left cursing their luck as India crashed out in the first round. If things had gone to plan, India would have qualified from the first round to take their place in what was expected to be a highly-charged clash with Graeme Smith's side. — AFP
Cruise ships dock for WC
Bridgetown (Barbados), April 10
Barbados is wearing a festive look as more than 6000 passengers, half of that from the two chartered cricket World Cup cruise ships, started descending here for the showpiece event. However, another 400 passengers that are supposed to come from India and stay at a special cruise ship are now uncertain.
Captain is the boss: Shastri
New Delhi, April 10
In a refreshing approach to his task as the Indian team's cricket manager, Ravi Shastri declared today that captain of the team is the "boss". "Captain is the boss and that is how it should be," the former Indian captain, who has been appointed manager for next month's Bangladesh tour, told PTI in a telephone interview from Singapore.


Dungarpur rubbishes Srikkanth's charge
New Delhi, April 10
Former India captain Krishnamachari Srikkanth alleged in comments published yesterday that an attempt was made in 1989 to divide the team over graded payments, but Raj Singh Dungarpur rubbished the charge.

Sachin, Yuvraj given 7 days to reply
Ranji captains, coaches meet on April 20


Raj Singh Dungarpur

Pillay wants longer term for Carvalho
Kolkata, April 10
Criticising the Indian Hockey Federation for frequent chopping and changing of national coaches, ageing hockey star Dhanraj Pillay today favoured a two to three-year term for new chief coach Joaquim Carvalho to give him sufficient time to deliver the goods.


Indian Airlines team, along with captain Dhanraj Pillay (centre), pose with the trophy after they won the 112th All-India Beighton Cup Hockey Tournament in Kolkata on Tuesday. — PTI photo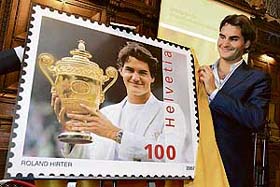 World No. 1 tennis player Roger Federer of Switzerland unveils a giant replica stamp during the launch of a Swiss postage stamp bearing his portrait in Basel on Tuesday. To commemorate Federer's record-breaking streak at the top of the ATP world rankings for 161 consecutive weeks, the Swiss Post issued a one Swiss franc stamp to honour the 25-year-old, 10-time Grand Slam champion. Living persons are not normally presented with the distinction. — AFP
IA lift Beighton Cup
Kolkata, April 10
Breaking a 21-year-old jinx, star-studded Indian Airlines lifted the Oil India 112th All India Beighton Cup hockey tournament with a 1-0 victory over Border Security Force, Jalandhar, here today. Veteran campaigner Dhanraj Pillay struck the all-important goal a minute from half time to propel the airmen to the title, which they had earlier won way back in 1985.
JCT's matches at Ludhiana
Chandigarh, April 10
JCT are all set to resume their campaign on home ground in the ongoing 11th National Football League on April 18 when they meet Mumbai's Air-India at Ludhiana's Guru Nanak Stadium. On April 21, JCT will take on Sporting Clube de Goa followed by the tie against Mahindra United on May 2.