Jogger's Park
Neighbourhood greens with concrete paths
are a fitness freak's paradise, says Saurabh Malik
Chandigarh is waking up to a fresh delight. As the days are growing longer with the sun climbing higher in the sky, so many teenyboppers are pushing aside the blanket of lethargy early to trot down the newly laid tracks in the green belts across the city. Converting them into joggers' park! "Until recently, almost all parks were nothing but playgrounds for the budding sports stars," says humanities student Nisha Chaudhary.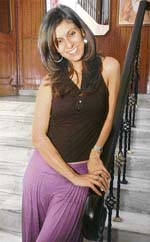 Khushboo B4U
This VJ believes in living life as it comes, writes Smriti Sharma
Friendly and bubbly, that's Khushboo Kochar Grewal for you. This twenty something has always been making news when she was here, as a runner up in Miss India North at the age of 15 or as a finalist in Channel V Popstar hunt in 2002. From anchoring school shows to compeering in college functions, this go-getter has certainly come a long way. Currently dabbling between shoots for music videos to voice-overs for ad films and documentaries, the chirpy dame has her hands full with assignments.And the latest feather in her cap is that of a VJ with popular music channel, B4U music. She has replaced Ishita in a request show, Video on Call. "I was told about the auditions by a friend and I went for it just like that," says Khushboo. With the show being aired in UK, USA and other countries, a huge fan following is bound to happen. "Getting fan mails everyday gives you a high," quips Khushboo.
First Day, First Show
Triviality gets a new name
Rajiv Kaplish
They all have this fatal impulse. Director Lovely Singh of Kya Love Story Hai is keen on scaling new heights of triviality in filmmaking. Actor Tussar Kapoor is desperate to make mincemeat of his portrayal of a lover boy. Ayesha Takia has her own diabolic agenda to reduce the film to a farce. Not to be left behind, debutant Karan Hukku wants to break new ground in overacting.
Ankita & the wonderland
Saurabh Malik
Innocence of childhood is reflected in the maturity of her art.
Not bound by the symbols of things perceptible, 12-year-old artist, Ankita Khanna, looks at the wonderland with bewildered eyes through the glass of imagination. So while the sun for you is a roaring ball of inferno, it is just soothing shade of yellow blending homogenously with the green below on the canvass to give you the view of creation as she sees it. Appreciating her sensitivity and ability to break free from the widespread codes at such a tender age, an international organisation has already given the class VIII student an award for designing a greeting card.
Mazaa for Airtel subscribers
It was an exciting and proud moment for the daily prize-winners of the Airtel Total Mazaa contest as they came to Fun Republic to collect their free tickets for movies of their choice, as well as special discount coupons for snacks. All these lucky customers had participated in the contest by sending an SMS ' MAZA' to 3131, followed by answering some simple questions. The winners were Goldy (20), Meenu (18), Kishen Chand (23) and Manoj Verma (27). The contest closes April 30. —TNS


BIG PICTURE


Redefining
luxury:
Cruise liner AIDAdiva was christened at a spectacular ceremony at
the Hamburg harbour, Friday. Thousands gathered to see the illuminated ship.

Street smart
Purva Grover
Are you one of those who travel to Delhi over the weekend for shopping? Undoubtedly, one would agree that the easy bargain lanes of Janpath and Sarojini Nagar do make up a fashion freak's paradise but then fashion huts in the city, too, are not far behind. So before you head for Delhi next, do check out these shops. Life Style shows the way.
Haywire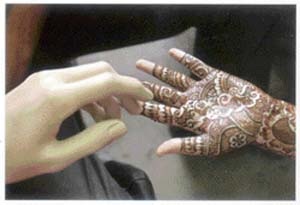 Ash to ashes
Chetna Keer Banerjee
A friend looked rather harried. Her home turf was in the throes of a minor upheaval. Her maid had left to get married. Nothing unusual in that except that it was a case of one woman's domestication and the end of another's domestic vacation. But it was the comment which followed that vested the maid's matrimony with an import beyond the usual. "When?" I casually asked. "Oh, the same day as Ash." At once, a run-of-the-mill event acquired a celebrity connect. It brought to mind another remark, of a would-be bride whose wedding fell on April 19. "How I wish it was a day later. Then, my D-day would've been the same as Ash's!"
Matka chowk
A long wait
Sreedhara Bhasin


Some old commercial buildings in the city have those dingy, dark and steep staircases that make you feel like you are climbing up to the tomb of an ancient and forgotten king. I had the occasion to practice my climbing skill on such a staircase lately — in the hope of gearing up for a future journey to Egypt. Actually, it was a climb in search of something as plebian as an additional gas cylinder. Somehow, paltry as it may be, the process of procuring one turned out to be almost as difficult as unearthing Tutenkhamen's chamber!
Aniston's back
After enchanting viewers with her onscreen lip lock with Courtney Cox on new sitcom Dirt, Friends star Jennifer Aniston is all set to return to the big screen. The Californian beauty will star opposite two-time Oscar winning actress Meryl Streep in an upcoming movie. — ANI
---