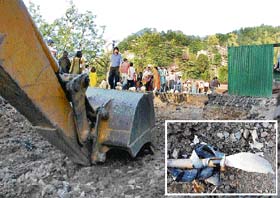 Restoration work in progress at Shimla's landmark, Gaiety Theatre, is causing inconvenience to tourists and local residents. Hundreds of phones went dead after the cable was snapped during digging at The Ridge on Tuesday. Inset: a damaged cable. — Tribune photo by S. Chandan
Water harvesting plan to be extended
Shimla, April 24
Encouraged by the success of the Rs 6.78-crore community water harvesting and natural resources management scheme in Hamirpur district, the government has decided to replicate it in other areas of the state, too.
MC Elections
Parties chalk out strategy
Shimla, April 24
With the announcement of the date for the MC elections, various political parties have started chalking out their strategy as both the Congress and the BJP have constituted election manifestos and screening committees.
Industrialists meet Sukhbir
Baddi, April 24
A joint deputation of the Baddi-Barotiwala-Nalagarh Industries Association and the PHD Chamber of Commerce and Industries, Himachal Pradesh, recently met acting president of the SAD Sukhbir Badal over an alternative route from Baddi to Chandigarh.
A club for the lonely
Shimla, April 24
There is good news for the lonely. "Sharan", a Chandigarh-based organisation has decided to set up its branch in Shimla to fill joy in the lives of those who have been left alone due to circumstances.


ABVP stages dharna
Shimla, April 24
Condemning the killings in Nandigram, activists of the Akhil Bharatiya Vidyarthi Parishad staged a dharna at Himachal Pradesh University here today. Campus secretary of the ABVP Naveen Sharma said two exhibitions had also been put up by the ABVP on the Nandigram issue.

ABVP members sitting in dharna on the HPU campus in Shimla on Tuesday. — A Tribune photograph
Career counselling centre soon
Mandi, April 24
In an initiative to achieve government's Career counselling centre soon policy of employing 70 per cent persons in industries and projects from the state, the state government is set to start a divisional-level career counselling centre in Mandi.
Three killed in two mishaps
Nurpur, April 24
Three persons were killed and two injured in two accidents here last evening. Surjeet Singh and Surinder Singh of Ther village died on the spot when their motor cycle met with an accident while overtaking a truck at Harad bridge near here. The truck driver is at large.
Bhareri school employee booked
Hamirpur, April 24
The police has booked an employee of Government Senior Secondary School, Bhareri, for siphoning off fees and other funds collected from students of the school. On directions from the Education Directorate the school principal registered a case against junior assistant Dinesh Kumar after a departmental inquiry found him guilty of embezzlement of over Rs 2.60.
Mexican tourist goes missing
Dharamsala, April 24
A Mexican tourist has gone missing after he fell down into a deep gorge from the snowline of the Dhauladhar range above the trekking point of Triund near Dharamsala, last evening.
Phones go dead in Paonta
Nahan April 24
Telephone system collapsed in the entire Paonta area this afternoon which was not restored till late this evening. Thousands of BSNL subscribers of the town and surrounding villages were left with no option but to depend on mobile services.
'Voters kept out of lists'
Shimla, April 24
The CPM today complained to the state election commissioner about the gross violation in the preparation of the electoral rolls for the local municipal corporation elections at the behest of the ruling Congress.
INA freedom fighter dead
Dharamsala, April 24
Former officer of the Indian National Army Pritam Singh Bakshi died following prolonged illness at his native village Kalu-di-hatti, near Palampur in Kangra district, early this morning. He was 90.