Harvesting at its peak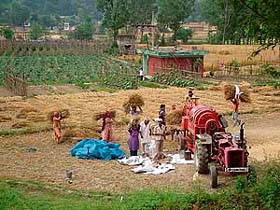 Farmers are busy thrashing the wheat crop in Mandi's Balh valley, known as "mini Punjab" due to a high crop yield. — Photo by Mahesh Chander Sharma
Steep rise in ration cards; shops face problems
Solan, May 6
A steep rise in the number of ration card holders in the district is giving a tough time to the ration depots, who are set to offset the state government's scheme of subsided ration. The government had fixed a maximum quota of food grains and other items for each family.
Milk production
Know-how for dairy farmers
Nurpur, May 6
In order to boost milk production in Kangra district, the Union Ministry of Rural Development, under the Swarn Jyanti Rural Self-Employment Scheme, had approved an Intensive Dairy Development Project. The project, approved in 2002, had been launched in 2003-2004 in the district.
Pensioners' body decries delay in JCC meeting
Chamba, May 6
The Himachal Pradesh Pensioners' Welfare Association has decried the failure of the state government to convene a meeting of a state-level joint consultative committee of the state pensioners.
Project to save snow leopard
Shimla, May 6
The Forest Department is pinning hopes on the proposed national project for the conservation of the highly endangered snow leopard. The integrated project formulated by the Mysore-based Nature Conservation Foundation is to be implemented in the 11th plan in the five trans-Himalayan states, where the animal is found.
New project to save western tragopan
Dharamsala, May 6
The endangered western Tragopan is likely to get a new lease of life with the union government having decided to help the state government make new cages for pheasant breeding. A sum of Rs 4.93 crore had been sanctioned for this purpose for five years.
From Nauni Varsity Campus
Controller trying for permanent absorption
Nauni (Solan), May 6
With the university's board of management (BoM) failing to accord consent to permanently absorb controller G.C. Raita in the university, the case has been sent to the state government. Raita, who joined the university a year ago on one-year deputation, was recently granted extension for a similar period.
Job Mela
ITIs need to upgrade courses
Mandi, May 6
Over 2,250 candidates out of 5,600 job seekers were selected on the spot by over 55 industries at the two-day job mela here, but the mela has exposed chinks between what industries need and what the state's obsolete ITIs are producing.
Award for Parmar varsity alumnus
Solan, May 5
Dr Arun Joshi, an alumnus of Dr Y.S.Parmar University of Horticulture and Forestry, Nauni, has been chosen for the prestigious Dr Harbhajan Singh Award for the best research work in the field of vegetable science for 2005.
Schools sans principals
Nahan, May 6
A large number of government senior secondary and high schools in Sirmaur district are functioning without principals. The government is undoubtedly on a spree of upgrading schools, but it is not taking care of providing the requisite staff. Around 160 posts of lecturer are reportedly lying vacant in the district.
Ex-MLA seeks Cong ticket
Hamirpur, May 6
Former MLA from Nadaunta Manjeet Singh Dogra has staked his claim to the Congress party ticket from Hamirpur. Dogra said he was the most suitable candidate as not only was he a two- time MLA but also belonged to other backward classes.
Wheat crop worth lakhs burnt
Mandi, May 6
Three farmers in Nagachla village under Balh police station today lost the wheat crop harvested from six bighas of land in a fire triggered by an electric short-circuit in a transmission line passing through the land. No loss of life was, however, reported.
Body of youth found
Bilaspur, May 6
The body of Sandip Kumar (28) of Behal Kandella village was found under suspicious circumstances in Tanbol area, some 40 km from here, on Saturday. The body was in a bad state and was taken into police custody. A post-mortem examination was conducted to ascertain the real cause of the death.
Complaint panel set up
Bilaspur, May 6
Rajinder Singh, deputy commissioner-cum-district election officer has set up a district level committee under the chairmanship of Additional District Magistrate Hans Raj Chauhan to ensure speedy disposal of complaints relating to any violation of the code of conduct during Hamirpur Parliamentary byelection.