No job for judo star


Amritsar, May 25
Her glorious record as a judo champion offers no help for days of economic crisis that lies ahead. Even after winning a bronze medal for India at the Thailand International Junior Judo Championship in 2003 and the Asian Junior Judo Championship at Doha the following year, Harpreet Kaur is running from pillar to post to get the job of a constable in the state police department or the reserve forces.
Harpreet Kaur


Heat Treatment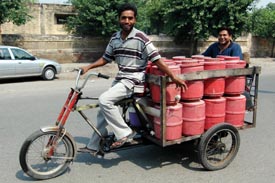 With mercury rising, the demand for water coolers has shot up in the city. — Photo by Rajiv Sharma
Guardians of peace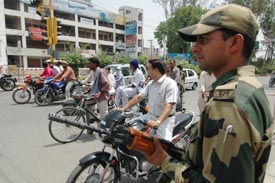 A BSF jawan keeps vigil at a crossing in Amritsar on Friday. Though the situation has calmed down, the government is not taking any chances.— Photo by Rajiv Sharma

Special trip for kids of drug addicts
Amritsar, May 25
Spring Dale Education Society took 30 children of drug addicts to a camp held at Nurpur. The Society has been supporting the Citizen Forum Vidya Mandir, a school run by Master Ajit Singh for 400 children of drug victims by providing monthly financial aid, conducting teachers training programme and holding creative art workshops.
Trespassing case: HP addl AG moves HC
Amritsar, May 25
The additional advocate general of Himachal Pradesh SD Vasudeva has moved the Punjab and Haryana Court seeking directions to police to register a case of criminal trespassing against his tenants in Sultanwind area of Amritsar.
'Show enthusiasm for extra curricular activities'
Amritsar, May 25
Extra co-curricular activities bring confidence among the youth and are help in their overall personality development, said Professor Dr Jai Rup Singh, vice-chancellor of Guru Nanak Dev University while addressing the participants of the week-long hiking and trekking camp, here on Thursday.
Mane makeover leaves many excited
Amritsar, May 25
The hair makeover by Shailesh, a Lakme Creative stylist from Mumbai, was done at at the Lakme Beauty Salon in the city where selected customers were given season's chic makeover. He gave their hair the latest trend to hit the fashion circuit.




Hair stylist Shailesh along with models in Amritsar. — Photo by Rajiv Sharma
Weaving magic with numbers
Choose any number. Then scramble up all the digits of the chosen number in the way you like. Remember that don't miss any digit of chosen the number. Now you will have two numbers — one will be the smaller & other will be the larger one.
Refresher course for librarians
Amritsar, May 25
Guru Nanak Dev University would conduct a three-week UGC sponsored refresher course in Library and Information Science from July 17.