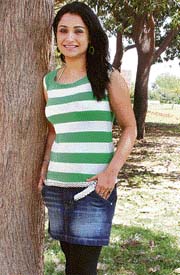 A date with Glamour
Forget sweaty students scribbling furiously for exams. Youngsters in town are choosing glamorous professions, says Anandita Gupta
Their success is enough to turn any youngster green with envy. For, while others thank their stars, even for a few-second-chance-encounter with the glamour-world, 'they' remain an intrinsic part of it. Yes, these youngsters have what most of us dream of—glam jobs with oodles of Zing. We dig into their professional lives and scoop out some glamour-laced details.

masti ki paathshala: Legal eagle Jaspreet Kaur remains comfortable with both camera and courts

Chic Shop
Jazzy Jute
Purva Grover
Make an eco-friendly fashion statement with these trendy, funky & functional bags
Minimal décor, a hue of colours and varied shades of the golden fibre – that's Ballyfabs. An exclusive shop for jute bags, this fortnight-old store in Manimajra is a must stop for the jute lover. An outlet of Kolkata-based Kankaria group, which is one of the largest jute producers in the country; Ballyfabs is the chain's fifth outlet in the country.

Write to Renee
at lifestyle@tribunemail.com or care of Lifestyle, The Tribune, Sector 29-C, Chandigarh
I am married for the past 10 years and have a 5 year-old-daughter. Ours was a love marriage. My husband was very loving but my in-laws seemed jealous of the situation. They wanted me to work, so I finished my education and I am a school teacher now. I have discovered that my husband has had many affairs behind my back and is also into drugs. He beats me and threw me out of the house and I went to live with my parents. They have asked me to leave my daughter at my in-laws place.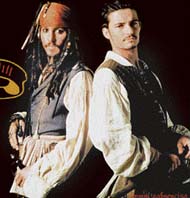 First Day First Show
Excursion in turbulent waters
Rajiv Kaplish
Pirates of ...
watchable
The "pirate" series is an albatross around director Gore Verbinski's neck. How to get rid of it is his dilemma. He has a sudden hallucinatory vision of the franchise and Pirates of the Caribbean: At World's End is born. Cobbling together a bizarre army of buccaneers, he sets sail on an excursion which gradually turns into an unending voyage amidst turbulent waters.
Adorn with Creativity
Brighten up your child's room with attractive books, games and huge play space, says Swati Sharma, after taking a look on what the city offers for kids' rooms
Your kid's room is like a kaleidoscope- a little world of colour and creativity that unfolds before the eyes as one enters inside.A room with a view that relaxes, yet mesmerises.And so, as the holidays begin and your little one packs off those studies, it's time to pack off that oh-so-boring-kids-room-look for a more exciting one.If we've left you wondering how to go about it, here are a few hints: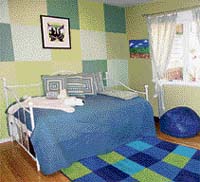 Mars vs Venus: The debate's on
Men are from Mars and women are from Venus, this phrase stands true not only for the grown ups. The likes and dislikes of both the genders vary. Blame it on the hormones, but it's obvious for girls to have a fetish for baby pinks' while indigos' and pastel blues' are presumed to be boyish shades.
Films & Fashion
Bonded in friendship
Keira Knightley and Sienna Miller have become the best of friends after working together in a new film. The British beauties have bonded so well, that they have been spending a lot of time off-set with each other too. The pair, who is starring together in The Edge Of Love, a film about Dylan Thomas, hit the town last week in matching black boots, tights and sporting similar short dresses. Accompanying them was Keira's boyfriend Rupert Friend, and their other co-star Matthew Rhys. Sources said that the duo has become inseparable since they started filming together, and even want to buy houses close to each other.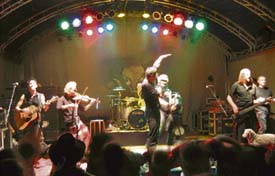 Ready to Rock ...
While Parikrama gets all set to rock UK, local bands feel the city still hasn't taken to rock completely. Radhika Singh takes a look at the rock scenario in town
Rock fans across the country have much reason to rejoice. Indian rock band Parikrama is all set to perform at the famed Download Music festival at Donnington Park in England. It will be performing alongside other popular bands like Iron Maiden, Led Zeppelin, Linking Park and Dream Theatre. This being the first major international tour of the band, it sort of makes one wonder; with Parikrama showing the way, has rock music in India come of age?
Haywire
Poster kids of academia
Chetna Keer Banerjee
They never got their 15 minutes of fame for passing on the genes that resulted in high-scoring report cards. For, the mark sheets of yore never made headlines the way they do today. Blame it on the near absence of 24x7 headline hunters till a couple of years back. And the lack of a media-enabled image-management, on the parts of parents and progeny alike.
---