Huge heroin haul near Kathunangal; 2 held Amritsar, June 5
In a major breakthrough, the Amritsar (Rural) police has busted an international gang of heroin smugglers and recovered 12 kg of the contraband valued at Rs 12 crore from their possession. Acting on a tip-off, a police party intercepted an Indica car in which three smugglers were travelling near Kathunangal around 11 am on Tuesday. While two accused were nabbed, one of them fled. The consignment had come from Pakistan through the Punjab border and was headed for Delhi.


Contraband worth Rs 12 crore was seized. — A Tribune photograph
Residents up in arms against mobile tower installation
Amritsar, June 5
The residents of Hussainpura and Sharifpura localities have urged the local body minister to stop the installation of cellular transmission tower in their residential area.
'Give women their due in society'
Amritsar, June 5
Though women have scaled new heights in almost every field, yet they aren't given equal status in society, said a noted playwright Gursharan Singh. He was speaking at the conclusion of a three-week refresher course in English organised by the Department of English of the Guru Nanak Dev University under the aegis of its Academic Staff College here.

Playwright Gursharan Singh awards a certificate to a participant at Academic Staff College in Amritsar. — A Tribune photograph

Mission Green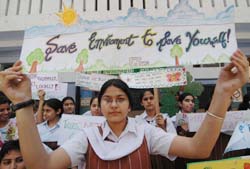 Students of various city schools display placards with messages of 'Save Mother Earth' to mark World Environment Day in Amritsar on Tuesday. — Tribune photo by Rajiv Sharma
GND varsity organises exhibition on garments
Amritsar, June 5
An exhibition of garments designed and stitched by students of the department of adult, continuing education and education and extension was organised on the Guru Nanak Dev University (GNDU) campus here today.
Spring Dale comes up with advanced placement centre
Amritsar, June 5
In order to equip children with abilities and mindsets critical for surviving and excelling in a rapidly globalising India, Spring Dale Senior School opened a scholastic aptitude test (SAT) and advanced placement (AP) examination centre in the city.
SDM orders closure of poultry farm
Amritsar, June 5
SDM Vimal Setia has ordered the closure of Avtar Poultry Farm situated at Waryam Nangal village on the Amritsar-Batala road under section 133 (1) of the CrPC for allegedly creating health problems for the local residents.
Lawyers strike work
Tarn Taran, June 5
Members of the District Bar Association abstained from judicial courts work here today to protest against booking association district president Baljinder Singh Sandhu in an alleged false criminal case by the police.