Tools unit irks residents
Jalandhar, June 5
The residents of Sanjay Gandhi Nagar on Tuesday complained to the deputy commissioner that they were suffering great inconvenience due to the noise pollution caused by a hand tools factory in the residential area. The residents, who had come along with their councilor Gian Chand to attend the Sangat Darshab programme, told DC that loud noise coming out from the factory was making their lives miserable.


'The noise is killing'
Summer Pangs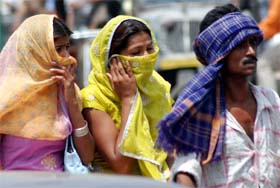 With mercury hitting the roof in the region, the going is getting tough for the common man.
— Photo by Pawan Sharma
Now, Chinese tips for local hand tool units
Jalandhar, June 5
The United Nations Industrial Development Organisation is helping hand tool companies of India in general and Jalandhar in particular in getting expertise and technology ranging from plastic component to hand tools from China.
Watch out before digging into roadside stuff
Phagwara, June 5
The street kitchens in the town are proving to be a great health threat for the residents. With metros like New Delhi and Mumbai tightening the noose on vendors selling pavement snacks, the people here are also demanding removal of roadside stalls selling food items.


LHB coaches for more comfy ride in Shatabdi
Kapurthala, June 5
The LHB-design stainless steel chair car coaches manufactured by the Rail Coach Factory, Kapurthala, have been introduced in Shatabdi Express trains running between New Delhi and Amritsar and New Delhi and Kalka, respectively.

These coaches have superior features in terms of aesthetics, improved ride comfort with sound insulation.

Young World
Chill-out time: It's full house at summer camps
Jalandhar, June 5
A 20-day long summer camp is being organised for the students at DIPS School Karol Bagh. They would be imparted training in dance, music, computer, art and craft, karate and personality development.

DIPS students colour their art pieces during a summer camp.



Play numbers game
Do you want to impress your friends with some unusual tricks. If yes, try this mind-reading game on your friends. Ask your friend to think of a number and multiply it by 100, add 36 and subtract the number first thought of.
Market Buzz
Soil testing at farmers' doorstep
Jalandhar, June 5
Mahindra and Mahindra, a tractor manufacturing company, has introduced a mobile soil testing technique for the farming community in Punjab. A demonstration for the purpose was held on Tuesday for the farmers of Mustafapur and Chakrale villages near Kartarpur.


NCC camp comes to a gala end
Jalandhar, June 5
The 2 Punjab Girls' Battalion, Jalandhar, organised a 12-day NCC camp for its cadets at Sainik School, Kapurthala, that concluded on Tuesday. As many as 225 cadets participated in the camp during which they imparted service training by inspiring will, map reading, point-to-point marches, obstacle course training and shooting.

Cadets from 2 Punjab Girls' Battalion at the camp held at Sainik School, Kapurthala.
— Tribune photo by Pawan Sharma


GIRL POWER: Four students have brought laurels to Baba Manjh Convent Senior Secondary School, Hoshiarpur, by securing more than 90 per cent marks in the CBSE Class X Examination 2007. (From left to right) Tajinder Saini (94.6 %), Kuljit Kaur (93 %) , Tanushree and Rachna (90.8% each).
DIET students submit charter of demands
Jalandhar, June 5
A five-member delegation of the DIET Students Welfare Association, led by its state president Jagtar Singh Jhabar, called on Punjab Education Minister Upinderjit Kaur in Chandigarh and submitted a charter of demands to her.

2 arrested with 60 kg of poppy husk
Phagwara, June 5
The Goraya police, headed by ASI Malkiat Singh, arrested two persons and seized 60 kg of poppy husk from their possession at a naka at nearby Sangh Dhesian village this morning.