STUBBLE TROUBLE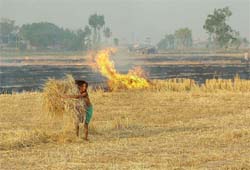 This child tries to salvage some of the stubble set afire by the farmers for her domestic use at Khangarh village in Kapurthala district. — Photo by S.S. Chopra
Poor drainage system makes residents block rail traffic
Phagwara, May 15
Hundreds of irate residents, including women and children, of the local Shivpuri Mohalla held a demonstration and blocked rail traffic on the Phagwara-Nawanshahr rail section yesterday.
'Wake up against communal forces'
Phagwara, May 15
Hindutva is to be saved at all costs and communal forces cannot be let loose to do what they want against Hindus, this was stated by Kailash Singhal, regional organising secretary of Vishwa Hindu Parishad while addressing media persons here yesterday.
Women not lagging in drug peddling
Jalandhar, May 15
In what may be termed as shocking information, women in the district do not lag in drug peddling.
Doaba girls - victims of foreign mirage
An insatiable desire to settle abroad is overpowering Doaba youth in Punjab. Not only young girls and boys are in a hurry to fly abroad but their parents also use their daughters as a ladder for the fulfilment of their ambitions. They think once their daughter is settled there, they can send other family members subsequently.
Australia beckons
Welcome to Down Under, Australia, a land full of surprises. Everything about Australia - right from its climate to scenic beauty to its people and their culture - is simply magnificent. Contrary to the climate in India, summer officially starts in December and winter in June there. And amazingly, even in winter one can enjoy blue skies and warm, bright days.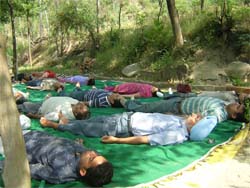 A Sunday at Adhyatam Niketan
The Adhyatam Niketan under reference is located at Dehrian village in Hoshiarpur district. It took us one and half hours to reach there from Jalandhar. Dholwaha village is the road head for taking an uphill journey to Dehrian which is next to Kukanet. It is said that Dhola and Kuka were two Rajput brothers in the 17th century after whom these villages are named.
Young World
Kids dance on mom-tune
Jalandhar, May 15
Little Blossoms School celebrated Lullaby-2007, a function to mark Mothers' Day. A puppet show was the main attraction. The children presented a song on the tune of 'Kajarare kajarare'. Games, antakshri and statue dance had most mothers participating. Music was played by DJ as mothers danced with their kids.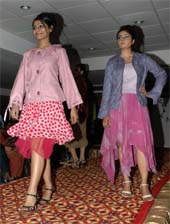 Fashion with chic n' chill
Jalandhar, May 15
Students of International Institute of Fashion Design (INIFD) organised a fashion show of wearable stuff, "Chic n' chill", at Jullundur Gymkhana Ladies Club on Monday. The show was an awesome mixture of style and design comprising of five different rounds displaying 50 dresses including sarees, skirts, jackets, Indianised version of kaftans and sun dresses. The saris donned by the budding designers were made of net and crochet.
Orders on servant verification
Phagwara, May 15
Following the instructions from Kapurthala Deputy Commissioner J.M. Balamurugan, Phagwara DSP HPS Khakh has ordered the owners or managers of the commercial establishments and owners of the residential premises to inform the police station concerned about the antecedents of any servants, helpers, maids or part-time helpers employed by them.
Property expo from Friday
Jalandhar, May 15
Jaaydaad.com is organising a three-day property expo here from Friday. Talking to mediamen here yesterday, Jaaydaad.com MD S.K. Jain said that the three-day real estate extravaganza would be the largest congregation in Punjab of real estate stakeholders with over 25 participants expected from all over the country. Jaaydaad.com is the sole marketer of the Nitishree and Hansmukhi projects in Punjab, he added. — TNS