Young World
Students attend night camps
Jalandhar, March 27
Mayor World School has organised night camps. The camps saw children participated in various activities, including horse riding, athletics and adventure sports.


Tridents celebrates silver jubilee
Jalandhar, March 27
Tridents, the 223 Squadron of Air Force, celebrated its silver jubilee at Air Force Station, Aadampur. The Squadron Commodore Commandant, Air Marshal SC Mukul, presided over the celebrations.





Air Marshal SC Mukul inspects guard of honour at Air Force Station, Aadampur.
Sukhbir seeks aid for farmers from PM
Jalandhar March 27
The Shiromani Akali Dal (Badal) has urged Prime Minister Manmohan Singh to accord a relief of Rs. 200-300 crore for hailstorm -hit farmers of Punjab and to declare the recent hailstorm in the state as a natural calamity.
Schools woo students
Jalandhar, March 27
Exploiting the psyche of Doabites, of getting fascinated by the concept that relates with foreign lands, many local schools are trying to incorporate the idea to make sure that they are able to admit a good strength of students in the new session.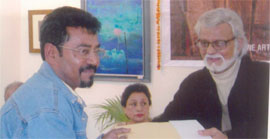 Biswas gets award
Jalandhar, March 27
Basudeb Biswas, head of the department of sculpture, Apeejay College of Fine Arts, has been awarded for his entry in the recently concluded 79th Annual All India Fine Art Exhibition organised by All India Fine Arts and Crafts Society in Delhi.

Basudeb Biswas receives Aifacs award from Satish Gujral
Satti sings
Jalandhar, March 27
Popular Punjabi anchor Sattinder Satti released her first Punjabi music album in Jalandhar.
Army teams improve game at Sansarpur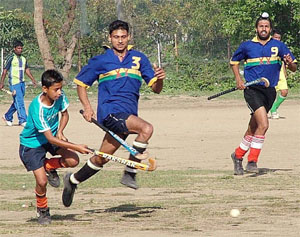 Sansarpur, Jalandhar, March 27
Sansarpur village near here, the nursery of hockey, has attracted 19 members of 20 Lancers, including one officer, two JCOs and 16 other ranks from the Mamoon cantonment to learn the hockey tactics from its budding players.



Tough tackling: Players of 20 Lancers practise with the under-14 players of the the Karam Chand Thappar Hockey Academy at Sansarpur village near Jalandhar. ó Photo by S.S. Chopra

Power cuts likely
Jalandhar, March 27
Minister for cooperation Kanwaljit Singh said today that people might face power cuts in the coming days as there is a shortage of 4,500 MW of power in the state.