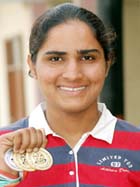 Pradeep lifts national gold
With eyes firmly set on the Olympics gold, Pradeep Kaur ,20, has started her journey. She recently bagged gold in the 19th Junior National Weightlifting Championship held at Chennai. A rebel, Pradeep, chose her game much against the wishes of her parents and elder brother, also a weightlifter in the Border Security Force. "My parents never wanted that I should take up weightlifting. Even my brother dissuaded me terming it as a non-feminine sport," said Pradeep a student of Banarsi Dass Arya Girls College, Jalandhar.
Thinking of Pash
Recently Pash's widow Rajwinder Kaur along with her daughter Winkle visited their native village, Talwandi Salem, to relive her past. Devinder Pal met them there. Here are some snatches.
Young World
Appejay students participate in festival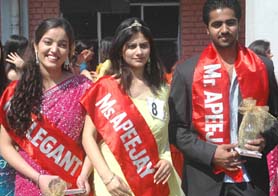 Students of the Apeejay College of Fine Arts participated in the South Asia University Festival held in Mumbai from March 7 to 11. Sugandha Mishra, Karandeep, Rohini, Jyoti, Gurpreet and Shweta from the department of music enthralled the audiences from SAARC countries through a group song and other cultural items. The team of the artistes was led by Dr Arun Mishra.
(From left) Sachleen, Guncha and Manik, were given titles at a farewell function of Apeejay College of Fine Arts, Jalandhar. — Tribune photo by Pawan Sharma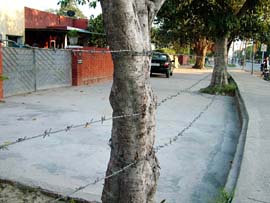 To block the movement of pedestrians, the PA of the Divisional Commissioner, Jalandhar, has put barbed wire outside his residence in Old Baradari. — Photo by S.S. Chopra
More diarrhoea cases
Over a dozen cases of diarrhoea were reported from Mehli Gate and Khalwara Gate localities of Phagwara in the past 24 hours. When The Tribune visited the area this morning, a large number of residents, including women and children, were seen suffering from diarrhoea.
Badminton meet
The Western Air Command Inter-Area Badminton Championship will be organised at Air Force Station, Adampur, from March 20 to 23. Teams from from various Air Force formations under the command will take part in the tournament. The players winning the event will represent the command in the forthcoming Air Force Badminton Championship.