Rain fails to dampen spirit of Kapurthala voters
Contrary to the fear of low polling percentage, intermittent rain could not wash the enthusiasm of Kapurthala electors to exercise their right to franchise on Tuesday.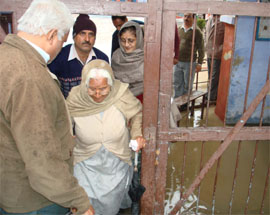 It was not a cakewalk for voters
It was literally a hurdle race for over a thousand voters who came out to cast their votes in two polling stations set up at Doaba Arya Senior Secondary School in Nawanshahr. Owing to incessant rain since last night and the poor drainage system, the campus remained flooded and the voters had to climb on a series of school benches to reach the polling stations from the school gate.

A tricky trek to the booth at Doaba Arya Secondary School in Nawanshahr.

Just a Thought
Charity without cause
A strong wind swayed the Champa tree. Its flowers and aged leaves were on the grass lawn. There was the pitter-patter of rain. I was in a rented room all by myself. The pace of rain drops increased. A youth drove through the pool of water that had collected in front of the house. The shadows of streetlights- some lit, some unlit-mesh of wires criss-crossing one another, gently returned to the pool. Rainwater had almost inundated the street that joined me with the neighbour's house.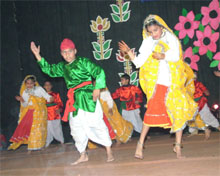 Young World
Little wonders
A model on automatic computerized signature verification machine designed by students of Police DAV School has been displayed at a four-day International exhibition for young inventors began at Pragati Maidan, New Delhi. The show ,which began on Tuesday, has been organised by the Confederation of Indian Industry (CII) and Department of Science and Technology (DST).

Students of DIPS School, Karol Bagh, perform during the annual prize distribution function held in Jalandhar on Saturday. — Photo by S.S. Chopra

Annual functions

Table soccer

Lecture

Fete

Placement

Inter-college contest

Exhibition