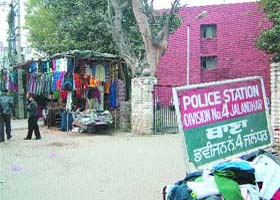 The boundary wall of Police Station Division No. 4, Jalandhar, has been encroached upon by hawkers. — Photo by S.S. Chopra
Kids in for Christmas feast
The city plans to present a host of activities for kids as part of Christmas celebrations. A party is scheduled to be held at Prithvi's Planet on December 24 wherein games, music, dance, bowling and video games will be organised by event organiser Reeti Singh.
Teachers protest
Demanding restoration of pension scheme, the Punjab State Aided School Teachers and Other Employees Union continued their protest on Thursday as their members, carrying black flags and banners, took out a rally to the office of the Deputy Commissioner this afternoon.
Voters' card must, says DC
Indian citizens will not be able to get LPG, telephone, power, water and sewerage connections without a valid photo voters' identity card in the future. Besides, old-age pension, ration cards, driving licences, SC, BC certificates, arms licences will be out of reach of those without the card, Deputy Commissioner A. Venu Parsad has said.
Consumer court cases
Nokia told to replace mobile set The District Consumer Disputes Redressal Forum has asked Nokia India, Nokia Service Centre and a local dealer to replace a defective mobile set with same or similar set of same price or return the original price charged by them from Mr Surinder Bajaj, a resident of Golden Avenue here.
Army school annual function
Army Public School organised its 22nd annual function on Thursday. A cultural bonanza on "Emotional integration" was presented as heavenly notes reverberated the school campus. An ensemble of dance, song and play proved to be a feast for those present.