Troubles continue to loom large over Badal
Chandigarh, December 21
Troubles continue for Punjab's former Chief Minister Parkash Singh Badal. Less than a fortnight after the apex court turned down a petition against the grant of sanction to prosecute him in a corruption case, the Punjab Vigilance Commission has initiated a move to attach the properties of politicians, bureaucrats and others accused of possessing assets disproportionate to their known sources of income.
Healthy vision his mission
Jubbal's hospital for poor under construction in Amritsar
Chandigarh, December 21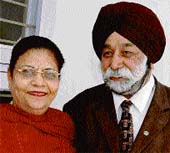 For 71-year-old Anup Singh Jubbal, a Canadian of Indian origin, giving the poor and needy a "healthy vision" is his mission. Based in Vancouver, Mr Jubbal, a Rotarian, travels to India every year not only to support and supervise free eye operation camps but also monitor the setting up of a multi-speciality eye surgery hospital at Chabba in Amritsar.

Mr Anup Jubbal, president, Canadian Eyesight International, with his wife in Chandigarh on Thursday.

— A Tribune photograph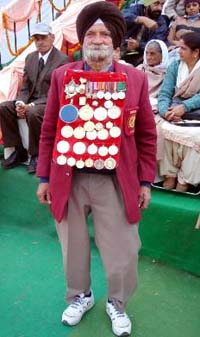 Mr Hardyal Singh, an ex-serviceman from Tarn Taran, displays his medals at a rally in Gurdaspur. — A Tribune photograph
Aulakh selected for Sahitya Akademi Award
Amritsar, December 21
Noted Punjabi playwright and theatre personality Prof Ajmer Aulakh (64) has been selected for Sahitya Akademi Award for his book of short plays — 'Ishq Bajh Namaz Da Hajj Nahi', published in 2003 by Chetna Publications.


Gurdaspur, December 21
Proudly wearing as many as 40 medals on his chest that were awarded to him by the Army, 69-year-old Hardyal Singh, an ex-servicemen from Tarn Taran, caught everyone's attention at the ex-servicemen's rally here.

Inter-varsity festival concludes


Guru Nanak varsity is overall champion
Amritsar, December 21
Guru Nanak Dev University maintained supremacy by retaining the Overall North Zone Inter-University Youth Festival Championship Trophy-2006 for the seventh year in succession.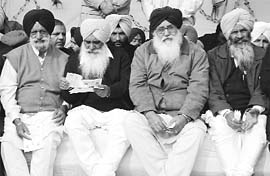 No decision yet on Gurdaspur seat: Badal
Woos Dalit Christians, decries cops' transfers
Gurdaspur, December 21
Rejecting news reports in a section of media, Mr Prakash Singh Badal, SAD president, today said no decision had been taken to give Gurdaspur Assembly Constituency seat to the BJP.
Mr Parkash Singh Badal and other SAD leaders in a pensive mood at a rally in Gurdaspur on Thursday. — Photo by Jangi
Unseemly conclusion of Jor Mela
Chamkaur Sahib (Ropar), December 21
On the concluding day of Shaheedi Jor Mela here today 20 veterinary pharmacists were injured when the police resorted to lathi charge soon after Chief Minister Amarinder Singh left the livestock fair held in the stadium this afternoon.
Taking cognizance of reports regarding alleged unfair utilisation of funds, amounting to Rs 3,81,15,000, distributed under the Ashirwad Scheme in this district, Mr Mohinder Singh Kaypee, Minister of Social Welfare and Child Development, today directed all SDMs to personally verify the legitimacy of all 2,541 beneficiaries under the scheme.
The body of an unidentified girl aged around 16 years was recovered under mysterious circumstances from a vacant plot in the Shakti Nagar locality this morning here yesterday.
A baby girl was found abandoned in the Rewari-Ganganagar train at the railway station here last night. With this incident the figure of deserted girls in the city has reached four in a year.