City's most traffic islands have statues of great men. On Thursday S.S. Chopra clicked some of the statues at (clock wise) Ghantaghar Chowk, Shastri Chowk, Kapurthala Chowk and Bhagat Singh Chowk.
Students told to have healthy food
To make the students aware about the importance of healthy food, physical fitness and healthy habits, Delhi Public School has organised various programmes.

Citizens' Corner
The Tribune is starting a column providing residents of Jalandhar and its neighbourhood an opportunity to highlight their problems, which are of a public nature.
Sabse fav
The bandwagon arrived in the city amidst all the hype and hoopla. And this is not just any other promotional campaign. This one is Star Gold's opinion poll Sabsey Favourite Kaun that is all set to come back on Star Gold in December 2006 and this time on an international level. In a young crowd in Sector 8, the 'Fan Van' arrived with all its crew after travelling to Rajasthan and UP.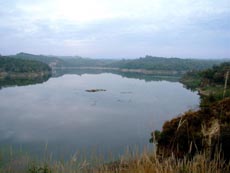 WEEKEND GETAWAY: Dholbaha wetlands
Want to get close to nature? Visit Dholbaha wetlands in Hoshiarpur district. Blessed with verdant forests and rich flora and fauna, the area is agog with feathered birds, especially during the winter. Nestled in the foothills of the Shivaliks, the wetlands are much to the delight of bird lovers.
A view of the Dholbaha lake, near Hariana village, in Hoshiarpur district. — Photo: S.S. Chopra
Alternatives to electricity
Are you sighing over the hefty electricity bill?You can avoid a hefty power bill by using Compact Florescent Lamps (CFLs).