Faux pas keeps candidate on toes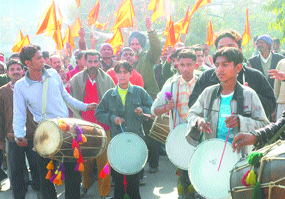 Filing a nomination proved to be too cumbersome a task for a low profile candidate of the CPI (ML) New Democracy on Tuesday. A first-time candidate and a representative of rural labourers from Kartarpur, Mr Kashmir Singh Ghugshore, said when he came to the district administrative complex on Monday to get a copy of voter list that was to be attached with his nomination papers, he found that his name had been struck off from the voter list.
NOMINATIONS BEGIN: Supporters of a candidate put up a 'musical show' as they march beating their drums near the district election office in Jalandhar on Tuesday.
— Tribune photos by Pawan Sharma


---

Many people, as many moods

Kashmir Singh Ghugshore rode a bicycle.
Kewal Singh Hazara hired a rickshaw.
A supporter relied on the old horse.

---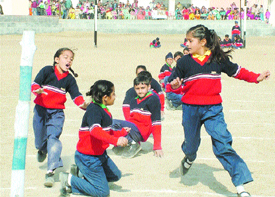 Young World
Rollicking start to "Iti Bharatam Week"
State-level competitions were held at Mayor World School to mark the beginning of "Iti Bharatam week" as part of the Republic Day celebrations on Tuesday. Teams from Ludhiana, Beas, Kapurthala, Amritsar, Jalandhar and Phagwara participated in various categories, including poetry recitation, quiz and art.
Students of Eklavya School play kho-kho during sports day organised in Jalandhar. — Photo by S.S. Chopra

Grover nominated as PPCC gen secy
The Punjab Pradesh Congress Committee (PPCC) president, Mr Shamsher Singh Dullo, has nominated a Municipal Councillor (MC) Mr. Sharwan Grover as PPCC secretary.
Cluster approval
A proposal for setting up a cluster of leather industry in Jalandhar by the Punjab Leather Federation has been approved by the steering committee of Small Industry Cluster Development Programme, Government of India.