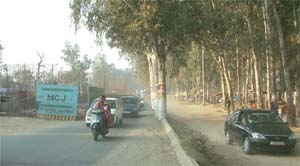 Commuters have a tough time near the DAV railway crossing as the construction company has covered more than half of the GT Road without laying any diversion passage in Jalandhar.—Photo by S.S. Chopra
Ways to build bonds
Friendship develops naturally, but few have the knack of build relationships with people from diverse strata of society and sustain them over a period of time.
City students to interact with Sunita Williams
Students of Apeejay School, who had won the International Space Settlement Design Competition at NASA, have just got another opportunity. This time they have been invited for an interaction with Sunita Williams through video-conferencing at US Embassy, New Delhi, on January 10.
Young World
Preparing for exam
CT Public School has organised a seminar on exam preparation for students of Class X. Ms Lakhwinder Kaur, Principal, addressed the students and gave them tips on time management, stress management, health care, exercise and use of sample papers.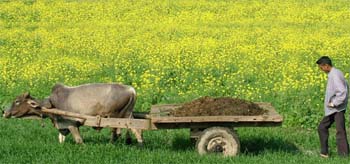 A farmer on his way to manure his mustard fields on a cold winter morning in Amritsar on Sunday. PTI photo
Railway union holds meeting
On the call given by the All-India Railway Men's Federation, the Northern Railway Men's Union organised a gate meeting outside the bridge workshop in Jalandhar Cantonment in favour of its demands.
Homeless brave the cold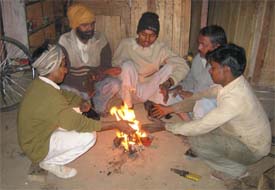 Night temperatures stay below 2 degree C and there are thousands of migrants and poor homeless people in Phagwara. Circumstances force them to sleep on pavements even in the extreme cold weather while luckier ones are under quilts to sleep snugly in their beds. Pardeep and his companions collect waste paper, cardboard boxes and other waste material and make a bonfire. The warmth helps them sleep for a while before the chill of the night takes over. They snuggle close to each other to keep warm.