Defence Notes
Pre-recruitment training
The District Sainik Welfare Office is organising a pre-recruitment training for entry into CISF for the wards of ex-servicemen and serving personnel.
Achiever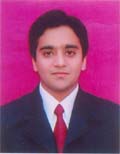 Kanav does alma mater proud
Kanav Khera, a student of Lovely Institute of Pharmacy, has done his alma mater proud by winning its first gold medal in academics. Having topped in Bachelor in Pharmacy with 79.87 per cent in Punjab Technical University, he received the honour from university Vice-Chancellor Dr S.K. Salwan during a recently-held convocation. Kanav is now pursuing Master's in Pharmacy Practice from Manipal Academy of Higher Education (MAHE).
Care for your voice
Dr Ravinder Verma, a local ENT specialist, has been rendering Yeoman's service to society by making people aware of early symptoms of different laryngeal diseases and by giving them free tips to help them preserve or improve their voice quality.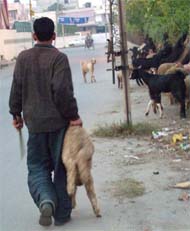 A man carries a sheep by holding it from the hair in New Jawahar Nagar, Jalandhar. —Photo by S.S. Chopra
Medical units celebrate corps day
Medical units of Vajra Corps celebrated their 243rd Corps Day here today. A sainik sammelan was organised which was presided over by Brig A. Kayastha, Commandant, Military Hospital.
Young World
Former students share experiences
The Department of Pharmacy, Lovely Institutes, organised an alumni meet on Saturday. Former students gave presentations and lectures, sharing their experiences regarding emerging trends in corporate world, responsibilities, performance and rewards at work places.
NSS volunteers adopt village
National Service Scheme (NSS) volunteers of Nawab Jassa Singh Ahluwalia Government College, Kapurthala, adopted Wadala Kalan village during a 10-day camp held between December 24 and January 2.Attempts were made to make literate villagers and cleanliness drive was carried out in different streets, religious places and the stadium of the village during the camp, said Prof Sarbjit Singh Dhir and Prof Jatinder Kaur Dhir.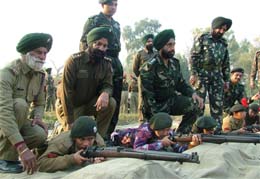 NCC on four-pronged strategy
Brig D.C. Katoch, Deputy Director-General, NCC, Punjab, Haryana, Himachal Pradesh and Chandigarh, has disclosed four new thrust areas of the NCC, including going the rural way. Addressing a press conference at local Guru Nanak College, Phagwara, after inaugurating "obstacle course and a shooting range", Brigadier Katoch said under the four new priorities, the NCC would go rural to train and tap the potential of village youth.