Canvassing a blessing for chai and rehriwalas
Public is suffering a lot due to traffic hazards, noise pollution and nuisance created by the hundreds of supporters of different candidates when they come to file their nomination papers with their respective returning officers nowadays.


Tea Stall near District Administrative Complex, Jalandhar on Wednesday. — Photo by S.S. Chopra

Cycling for votes
Mr Tarsem Peter, a labour leader and CPI (ML) candidate, stands out amongst other politicians. Instead of cavalcades of luxury cars, he treaded a distance of 42 km on cycle along with his supporters to file his nominations from the Nurmahl constituency. Not that Peter and his supporters could not afford cars or vehicles like other candidates, but this freak sojourn by Peter was aimed at enlightening political bigwigs about the common man's problems like unchecked price hike.



Tarsem Peter

MC earmarks sites for poll rallies
The Municipal Corporation of Jalandhar has pulled up its socks by earmarking 22 sites for holding any political rallies for the Assembly elections. The MC Commissioner, Mr S.S. Johl, in an order passed on Thursday said the political parties could not use any other public site for the purpose.


Chaos, thy name is Jalandhar
The city, once proud of its civic sense, progressive outlook and debonair residents, is fast degenerating into an urban nightmare. Be it traffic congestion, encroachments on public property, air or water pollution or drug addiction, the city's cup of woes is brimming over.


Traffic chaos at Namdev Chowk in Jalandhar on Thursday. — Tribune photo by Pawan Sharma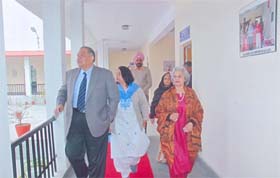 Bollywood actress Waheeda Rehman, who visited the city recently to meet her relatives. She stayed in the CRPF Complex at the residence of Mr M.S. Ahmed Ali, ADIGP, CRPF. She also visited the Golden Temple and the Wagah border.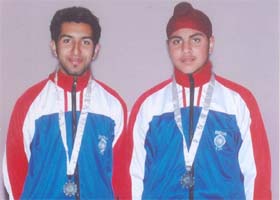 Ravi Dhir and Gurpreet Singh Bajwa, both students of Dayanand Model School, Model Town, who have won two bronze medals at the Indo-Nepal International Table Soccer Championship held at Viratnagar in Nepal recently. Gurpreet won a bronze medal in individual event, while Ravi Dhir got bronze in doubles.

Just a thought
Bluff and bluster
When we say Punjab is prosperous, our thoughts go to the top five families and the 30 more who have been struggling to gain the top slot through matrimonial alliances with the top five. These families control the state's organs, agriculture, trade and industry.
Young World
Republic Day celebrated
The Republic Day was celebrated at Seth Hukum Chand SD Public Senior Secondary School. Students participated in a cultural show which included group songs, group dance and speeches. Concluding speech was delivered by the Principal, Ms Manju Arora.
'Fine may be imposed for denying information'
If any public servant refuses to take application seeking any information without any valid reason or provides wrong information intentionally under right to information (RTI) Act, a fine of Rs 250 per day with the maximum limit of Rs 25,000 may be imposed on him.