Aaj ka crorepati, kal ka MLA
Vishal Gulati
Tribune News Service
They may be hugely wealthy but they still want more cash – or rather cash in on the clout they enjoy to enter the portals of the Vidhan Sabha.
Mr Amarjit Singh Samra, the Congress candidate from Nakodar, leads the pack of the super rich who have entered the electoral fray. He has declared assets worthy over Rs 17 crore. He is closely followed by Mr Sarbjit Singh Makkar, the SAD-BJP candidate from Adampur, who owns property worth Rs 14 crore.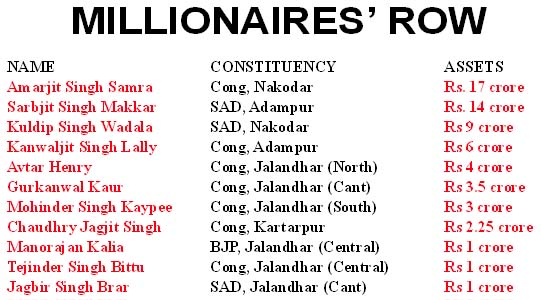 Surprisingly, Mr Makkar's assets are more than the SAD chief, Mr Parkash Singh Badal's assets. Mr Badal's assets are below Rs 9 crore and he does not even own a car in his name although he has been the Chief Minister thrice.
Mr Makkar's main rival, Mr Kanwaljit Singh Lally of the Congress, too lives up to his tag of 'royalty' and has declared assets and property worth Rs 6 crore. He possesses Rs 1.5 lakh in cash while his wife has Rs 1 lakh in good old currency notes.
In contrast, the Congress Chief Minister, Capt Amarinder Singh, has declared that he possesses just Rs 15,000 in cash.
Mr Avtar Henry of the Congress, who is known for his high life, has declared material assets worth close to Rs 4 crore. He has two cars, 27 trucks and jewellery worth Rs 40 lakh. His rival, Mr K.D. Bhandari of the BJP, does not have a car.
Mr Manorajan Kalia also has assets worth more than Rs 1 crore, while his rival Mr Tejinder Singh Bittu (Congress) has assets worth Rs 1 crore.
Mr Bittu has always been in the news for his style of working as Chairman, Jalandhar Improvement Trust.
Recently, Mr Sukhbir Singh Badal, General Secretary, SAD, alleged that Mr Bittu had illegally leased out a five-acre plot in the city to the Dashmesh Education Trust being chaired by CM's media adviser, Mr B.I.S. Chahal.
Mr Badal alleged that Mr Bittu also allotted sites for five petrol pumps to his favourites, one of whom was the relative of Mr A.P. Pandey, DGP (Prisons), and the other being his own relatives.
Even the Congress MLA from Jalandhar (Central), Mr Raj Kumar Gupta, said the money power played an important role in replacing him.
Mr Kuldip Singh Wadala, the SAD candidate from Nakodar, declares his property is worth Rs 9 crore. His son, Mr Gurpreet Wadal, who has filed papers as covering candidate, has declared material assets worth Rs 8 crore.
Chaudhry Jagjit Singh, who has been in the thick of controversies following allegations of misuse of office, claims property worth close to Rs 2.25 crore, Rs 8 lakh in fixed deposits and jewellery worth more than Rs 4.5 lakh. The 'poor' rich man owns one car — a tumbled down model of Contessa that has been out of production for a decade.
Mr Mohinder Singh Kaypee, the Congress candidate from Jalandhar (South), owns assets worth Rs 3 crore and owes Rs 1.25 lakh as loan from Punjab Land Mortgage Bank, Kapurthala.
Ms Gurkanwal Kaur, who donned political mantle and is contesting from Jalandhar (South), also does not own any car but owns jewellery worth Rs 3.25 lakh. She owns property worth Rs 3.5 crore.
Her rival, Mr Jagbir Singh Brar (SAD), who is the new entrant to the politics, also owns assets less than Ms Gurkanwal Kaur. His assets are worth Rs 1 crore.