Infantile fantasy stomped
On hearing that cigarettes are going to cost more, I clinched the fist, lest my nicotined fingers reach out for the deadly pack only an arm-length away. More than cough and an occasional bout of breathlessness, the spiraling cost of the pack prompted me to kick the 30-year-old habit for good.
Cloning eucalyptus
An eucalyptus and poplar farm at Semi village in Jalandhar is different. The trees have a straight bole that shed lower branches. "This fetches the tree cultivator a higher price for the wood as it is considered to be of better quality in the market", says cultivator Piare Lal,64. All trees of a clone have identical leaf shape , bole structure and growth . He demonstrates the functioning of his green house where shoots of the mother clones are grown in trays in a controlled environment.

going green: Forestry expert Piare Lal shows cloned eucalyptus saplings at his Semi Village farm. — Tribune photo by Pawan Sharma


Solar lawn mower
Second year mechanical engineering students of CT Institute of Engineering, Management and Technology have successfully designed and tested a solar lawn mower to cut the grass for household application.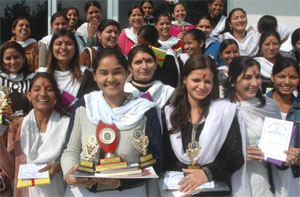 Young World
All-India inter-college fest
Dr B.R. Ambedkar National Institute of Technology will host Utkansh, an all-India inter-college cultural and technical festival to be held from March 16 to 18. Dr A.P. Singh, chairman of the festival, said that business quiz, paper presentations, preliminary antakshri, rangoli, stage play, choreography and fashion show will be held on the first day.

Students of BD Arya Girls College in joyous mood after being honoured at a function in Jalandhar on Tuesday. — A Tribune photograph
Life goes to seed in urban walls
Along with the increase in poverty, the fast pace urbanisation is affecting the quality of life drastically, said Dr K.L. Sharma, a former vice-chancellor, Rajasthan University, Jaipur, during the two-day national seminar on 'Quality of life in urbanising world'.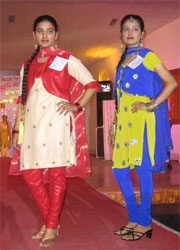 KNC students sashay down the ramps
High pitched music and top fashion models of the Kamla Nehru College for Women, Phagwara, walking down the ramp in front of a 1,000-strong crowd of enthusiastic youngsters on the college auditorium marked the grand finale of 'Fashion Fiesta 2006-2007'. Everything went according to the mood of college students and participants of Fashion Fiesta. The crowd, as expected, did not create much chaos. Fashion Fiesta, which began on a rather low-key note, witnessed packed house at the valedictory function at the college auditorium. Of course, the high time was the fashion show.


Students of Kamla Nehru College for Women, Phagwara walk the ramp during Fashion Fiesta.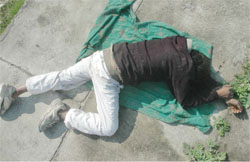 onE on the road

: After one too many this man chose to turn a pavement, near district administration complex, as his bed on Tuesday afternoon. — Photo by Pawan Sharma
Toys can play with lives
A remote controlled toy plane can fly up to 500 metres using a simple radio device. A toggle-remote controlled toy car can traverse a 300-500 metres distance.
80 pledged to donate eyes
The Shri Sukhmani Sahib Sewa Society in collaboration with the Eye Donation Association, Hoshiarpur, organised an eye donation camp at Bhai Kanhaiya Ji Sewa Simran Kendra in Chahal Nagar, Phagwara.