Stick to your achievements, BJP chief to Cong
Tribune News Service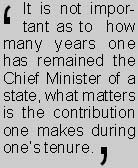 Shimla, March 15
BJP chief Jai Ram Thakur today said rather than being obsessed with the letter written by some BJP leaders during the Dhumal regime, the Congress should talk about its own accomplishments in its four-year rule.
Participating in the debate on budget proposal for 2007-08, he said the Congress was answerable to the people of the state as the elections were due within a year. "I would advice the Congress to stop talking about BJP's past and focus on its present," he said.
Talking about the charge sheet issued by the BJP, he said the party had communicated to the Governor that in case the probe was handed over to the CBI, the party would provide all proofs and documents. He said all issues that had been raised by the BJP members in the House would be raised during the elections for which the Congress would be answerable.
He said it was not important as to many how many years one had remained the Chief Minister of the state, what mattered was the contribution made during one's tenure. "BJP Chief Ministers Shanta Kumar and P.K. Dhumal are remembered for their contribution in providing drinking water and road network," he said. He said the Congress was responsible for pushing the state into a debt trap.
However, BJP members got agitated and raised slogans when Thakur's request for more time to the deputy speaker was not accepted. They left the House raising slogans, but returned after some time.
Earlier, IPH minister Kaul Singh Thakur accused the BJP of raising the bogey of regionalism. He said the Congress government was committed to undertake uniform and balanced development of the state. He said the BJP had no right to talk about corruption as during their rule, their ministers and MLAs had accused their own government of regional discrimination.
He read out the letter written by them to Dhumal. He said the charge sheet issued by the BJP was a bundle of lies.
He said the election manifesto of the Congress had been adopted as a policy document and all promises would be fulfilled.