Report on child labour still not ready
Jalandhar, March 29
Even as it has been over six months since a ban on child labour came into force, the labour department here is yet to come out with a report on the practice in the district. The work had begun on a war footing in October last when the ban wasannounced. Not only the staff of the labour department but also employees of the Municipal Corporation, Jalandhar, had been engaged in the survey across the city. Assistant labour commissioner Inderjit Singh had said that he would come up with a report on the matter early this year. With the change in the government, senior officials in the department are waiting for their transfers and the employees are taking it easy.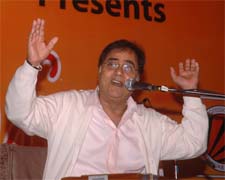 Jagjit for simplicity
Jalandhar, March 29
Ghazal maestro Jagjit Singh treats Indipop and Punjabi pop as two potent threats to melody and as well as to the regional music. Jagjit Singh is happy with proliferation of punjabi music and its domination over the firmament of music. "I am elated to observe that punjabi music has reached every where in the world, but, at the same time the quality has come down. Pop has harmed melody and regional music. For being an accomplished singer, you must know how to sing. Here people become singers without any formal training. Learning has taken a back seat.
Kalia's assurance on rail overbridge
Jalandhar, March 29
Much to the relief of the city residents the construction of the rail over bridge (ROB) on DAV College rail crossing would not be stopped in wake of the the ongoing controversy of the various BOT (build, operate and transfer) projects in the state.



Under-construction flyover on the GT Road near DAV College in Jalandhar.—Photo by S.S. Chopra

Gujral to build bridges
Jalandhar, March 29
Punjab needs greater degree of lobbying with ministries in New Delhi for solution to the various long-standing problems and issues. To achieve this goal, legislators from the state have to do a lot of networking in New Delhi. Naresh Gujral, Rajya Sabha member from Punjab, said this while talking to this correspondent. "The biggest requirement of the time is that parliamentarians from the state should turn pro-active and participate in debates over state-related issues. In my case, it is easy to lobby for Punjab in New Delhi as half of the union ministers have been in my father's cabinet.
Young World
Students told how to handle waste
Jalandhar, March 29
Kanya Maha Vidyalaya and the Punjab State Council for Science and Technology has organised a seminar on solid waste management. A.P. Vig, reader, department of botany and environmental sciences, Guru Nanak Dev University, delivered a lecture on "Vegetable waste management through vermicompositing". He gave a live demonstration of its functioning to students. Prizes were distributed among winners of a poster making and slogan writing competitions.

Chaudhary left alone
Jalandhar, March 29
In the aftermath of registeration of cases against former minister Chaudhary Jagjit Singh, his two loyalists, who held two important posts in the previous government, have deserted their 'mentor' in a bid to save their skin. The vigilance bureau has not only booked Chaudhary Jagjit Singh in the city centre scam, but it is also on the lookout for him amid rumours that he is either in and around New Delhi or he could have 'slipped' to some foreign country.
No headway in twin murder case
Jalandhar, March 29
Even after a month, the district police have failed to make any headway in connection with the murders of two Daduwal village youths. The two youths Gopi and Manga of Duduwal village were found murdered on February 24 in Chitti Bein near Kukar village. Both bodies showed sharp injury marks.


Cry for billboards
Jalandhar, March 29
The Jalandhar Outdoor Advertisers Association today urged the Municipal Corporation to allow it to fix billboards after March 31. It also asked the Municipal Corporation to issue revenue receipts for fixing billboards on private buildings.



Office-bearers of the Jalandhar Outdoor Advertisers Association address a press conference in Jalandhar on Wednesday.—A Tribune photograph
Plea to declare holiday
Jalandhar, March 29
The Central Bank SC/ST/OBC Employees' Association (Chandigarh zone) has said the state government has not declared a holiday on April 14, the birth anniversary of Dr B.R. Ambedkar, under the Negotiable Instrument Act.