Spent 10 years in Pak jail
RAW agent waits for compensation even after 19 years
Jalandhar, April 19
He has served India in one of the most difficult ways. He has spied for the country. But Bishan Dass, a RAW (Research and Analysis Wing) agent, never imagined that his efforts will go in vain. Even after spending 10 years (from 1978 to 1988) of his life in Pakistan jail, the Government of India has not given him any compensation or reward for spending a torturous term in the hostile country.


Bishan Dass
People's concern
Scrap BOT approach: Pasla
Jalandhar, April 19
The Punjab unit of the CPM has condemned the recent decision of the Akali-BJP government to shift the burden of toll tax on to the bus passengers.


Phagwara parks in sorry state of affairs
Phagwara, April 19
Parks are supposed to be the lungs of a city. But in a crowded town like Phagwara, most of the parks are in a neglected state and as such remain deserted.

A park littered with dry leaves has become a cricket ground in Hargobind Nagar in Phagwara. — A Tribune photograph
Young World
21 selected in campus placement
Jalandhar, April 19
As many as 21 students from Lovely Institute have been selected by IT major Wipro in a campus placement organised by the company. A team, led by Wipro managing director Ahsaan Akhtar, conducted the recruitment process in which students securing more than 60 per cent marks in computer-related streams participated.

A Wipro team in the process of selecting candidates at the Lovely Institute.
Khalsa College sees hopes in Johnson's visit
Jalandhar, April 19
Foreign coach David Johnson, who has been invited by the Punjab sports department to train athletes, was honoured by Lyallpur Khalsa College.


David Johnson (right) after being honoured at a function in Lyallpur Khalsa College. Also seen Balbir Singh, chief, governing council, and principal Satish Kapur. — Tribune photo: Pawan Sharma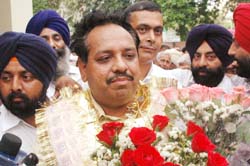 A greeting monent: Avinash Chander is welcomed after becoming the Chief Parlimentary Secretary in Jalandhar. — Tribune photo by Pawan Sharma
Market Buzz
New DVD Handycam from Sony
Sony has launched its latest range of DVD Handycam camcorders, providing a complete package for mid-range users. Rounding out the Handycam models are DCR-DVD908 (DVD908), DCR-DVD808 (DVD808) and DCR-DVD608 (DVD608) that have been designed for use with ease and packed with superb features.
Mercury on the rise
Jalandhar, April 19
The mercury today continued to witness upward trend with the minimum temperature of the city recorded at 19.8 degrees Celsius, sources at the met department of Adampur Air Force Station said. At other air force stations of the region, the minimum temperature was recorded at 19 degrees at Halwara, 20.2 degrees at Amritsar, 21.2 degrees at Pathankot, 21 degrees at Chandigarh and Ambala and 22.4 degrees at Jammu, sources said. — PTI