Needed: Overhaul for police infrastructure
Jalandhar, April 10
The Punjab police, which claims to be the savour of human life in the district, is in dire straits. At least a dozen police stations in the city and adjoining areas are functioning at rented buildings. And in some stations the condition is so pathetic that there is no place for keeping jail inmates.

With no proper space, the officials of police station (division no 7) near Garha are forced to dump stuff in the open. — Photo by S.S. Chopra
Metal rules his head
Jalandhar, April 10
An industrialist, Sunil Jain, has a unique obsession. He travels a lot owing to business compulsions and collects not just the coins, currency notes and stamps of the countries wherever he goes but also the travel cards, telephone cards, sim cards and visa cards that he purchases and uses during his sojourn there. Not only has he simply invested on purchasing these items, he has even bought expensive imported albums and boxes to arrange them in order and then flaunt these before his special guests. The fact that he is very passionate about his collection is evident from the way he discusses the importance of each and every item that he takes out - its unique features and the way he managed to procure it.


Industrialist Sunil Jain is obsessed with coins.
PSEB goes into power saving mode
Phagwara, April 10
The Punjab State Electricity Board (PSEB) will hold different seminars to educate the people on "power saving" to prevent a hour-long power cut being imposed due to power crisis throughout the state, especially during the summer.
Woman found dead, in-laws arrested
Jalandhar, April 10
A woman, Baljinder Kaur, was found killed at her house located in Bhagat Singh Nagar of Model House falling under the jurisdiction of the Bhargo Camp police post.


Red alert !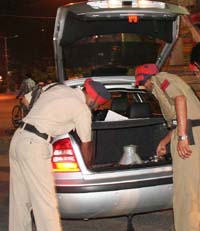 watch out

: A police team searches a car at BMC Chowk in Jalandhar on Monday night
Gujral wants top facilities at PMCH
Jalandhar, April 10
Keeping his promise on the upcoming Punjab Medical College and Hospital here, Rajya Sabha MP Naresh Gujral recently brought along New Delhi-based eminent cardiac surgeon Dr Naresh Trehan for exhaustive examination of the college from the angle as to how it could be converted into a world-class healthcare facility.
Young World
Tech fest: NIT students excel
Phagwara April 10
Two students of Dr B.R. Ambedkar National Institute of Technology Sheena Bansal and Aniket Pratap have won the first prize in 'model presentation' during a national-level technical fest held at Indian Institute of Technology, Roorkee, recently.
Water-borne diseases: Minister asks for report
Phagwara April 10
Taking note of the problems of sanitation, sewerage and drainage, due to which several water-borne diseases popped up in Phagwara, Punjab local bodies minister Manoranjan Kalia instructed principal secretary of local bodies department D.S. Bains to take stock of the situation and submit a report to him.
Sports Roundup
City wears a sporty look
Jalandhar, April 10
The city is witnessing a hectic activity on the sports front these days. The week kickstarted with Punjab sports department conducting trials for its Ludhiana-based Speed Fund Academy, sports wing in schools and other academies being run across the state.

Future stars: Players participating in the trials being conducted by the Punjab sports department at Olympian Surjit Hockey Stadium at Jalandhar on Tuesday. Tribune photo: Pawan Sharma
Men in uniform pedal for a cause
Jalandhar, April 10
A 20-member cycle rally undertaken by officers and jawans of Army, while passing through Jalandhar received a warm welcome by the the Vajra Corps Artillery Brigade here today.




Officers and jawans of Gurj Division during their cycle expedition at Jalandhar Cantonment on Tuesday. — Tribune Photo by Pawan Sharma
Complainants against transfer of consumer cases
Jalandhar, April 10
An order pertaining to the transfer of 100 cases pending with the District Consumer Disputes Redressal Forum at Jalandhar to Kapurthala forum by the state commission has come a bad news for the local complainants and the lawyers who have outrightly condemned the directions and asked for easy ways out to solve the problem.
Exporters demand representation in boards
Kapurthala, April 10
Welcoming the decision of Parkash Singh Badal-led SAD-BJP government to constitute three Industrial Trade and Development Boards for large, medium and small-scale industries, Punjab Chamber of Small Exporters (PCSE) demanded proper representation of the reputed export houses in the boards.
Missing child
Three weeks on, police fails to lodge FIR
Jalandhar, April 10
District police are seemingly making light of the mysterious disappearance case of a Nagaland posted CRPF constable Shovendra Jha's adolescent son Anand from its high security group centre located in Sarai Khas village on Kartarpur road here since March 18.
Dr Sud is IAP chief
Jalandhar, April 10
Dr Anil Sud, a senior pediatritian from Jalandhar, has taken over as president of Indian Academy Of Pediatrics (IAP), Punjab, at the annual conference of IAP, Punjab, held in Ludhiana on Sunday.
Omnipotent 'pardhanji'
Jalandhar April 10
How a few selected writers reaped rich benefits in the "raj" of "pardhanji" and how the latter managed to twist the adverse political circumstances in his favour with the help of these scribes and his "money power" is the talk of the town. The influence of "pardhanji", who was said to be very close to the powers that be and as part of the previous Congress regime, on a section of the media, particularly at the middle level, was apparently great and inedible.