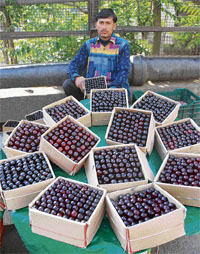 A roadside vendor awaits purchasers for plums at The Mall in Shimla on Monday. There is a bumper crop of plums in upper Himachal this season. — Tribune photo by S. Chandan
Escaped undertrial nabbed
Kangra, May 15
An undertrial, who was lodged in the district jail of Dharamsala, and had escaped from the police custody on May 10 was re-arrested this morning by the Kangra police at Dadeian Dadaseeba Dusadka near Dada Seeba on a tip off following a raid in the area, the police said here today.
10-yr RI for gang rape
Kangra, May 15
Kangra II additional district sessions judge K.S.Chandel today convicted three accused persons for gang raping a class X student of Dhera in 2003 and sentenced them to 10-year rigorous imprisonment and fine of Rs 25,000 each.
It's a murder not accident, claim kin
Kangra, May 15
The family members of a 33-year-old victim Kashmir Singh of Bassa Waziran of this district, who was allegedly murdered in a pre-planned manner by a speedy car on May 11 last, are running from pillar to post apprehending that the police is allegedly trying to convert the murder case into a hit-and-run accident.
Drug addiction on the rise among youth
Nahan, May 15
A large number of youth living in the district and adjoining area are fast taking to drugs in the absence of frequent raids on drug peddlers.
Charas seizure
HC reduces sentence
Shimla, May 15
The high court has reduced the sentence awarded to the accused by a fast-track court at Shimla from 10 years to 5 years in a charas recovery case on the ground that the quantity of the charas was lesser than the commercial quantity.
Swami Ramdev stresses on yoga patenting
Shimla, May 15
While asserting that traditional knowledge could not be patented, yoga guru Swami Ramdev, today urged the government to take all necessary steps to thwart the efforts being made across the globe to exploit the ancient science of yoga by securing a patent on it.


Swami Ramdev stresses a point to mediapersons in Shimla on Tuesday. — Tribune photo by S. Chandan

Israel art on display
Shimla, May 15
Governor V.S. Kokje inaugurated a photo exhibition entitled "Jerusalem in old maps" organised by the Department of Language, Art and Culture in collaboration with the Israel Embassy, here today.
Global Warming
'India, China should work together'
Shimla, May 15
Expressing concern over glacial melting due to global warming, especially in the Himalayan and the Canadian hills, Canadian High Commissioner David Malone today called upon India, Pakistan and China to join hands so that corrective measures could be taken.
DIG (North Zone) P.L. Thakur flags off a highway patrol squad at Gaggal on Tuesday. The squad will assist tourists and accident victims on the highway. — Photo by Shailesh Bhatnagar
Jharkhand Guv visits HPAU
Palampur, May 15
Jharkhand Governor Syed Sibtey Razi visited Himachal Pradesh Agriculture University (HPAU), here today.
Shortage of lecturers
Nurpur, May 15
The local Arya Government College has been facing shortage of lecturers ever since its inception in June 2002.
'Core banking opens new vistas'
Baddi, May 15
The core banking has revolutionised the banking sector in the country.