Lifetime achievement award for NRI Bains
Raghbir Singh Bains, an NRI settled in Canada, who has received various national and international awards, including the Order of British Columbia, was honoured with the Lifetime Achievement Award, 2007, for his contribution to society by the Ontario Sikh Gurdwara Council, Ontario, on April 29.







Ontario Sikh Gurdwara Council chairman Harbans Singh honours Raghbir Singh Bains, in Ontario on Sunday. — A Tribune photograph
Functions mark Labour Day in city
Jalandhar, May 1
Labour unions and various associations held separate functions in the city to observe International Labour Day here today. The members of Northern Zone Insurance Employees Association gathered in front of the office of local divisional office here where they raised slogans in the memory of those who got martyred in Chicago in May 1886 during a peaceful protest.

LIC employees in Jalandhar raise slogans in the memory of those who attained martyrdom in Chicago in May 1886. — A Tribune photograph
More course options this session
Jalandhar, May 1
With most local colleges applying for new professional courses, those trying for admission to various graduate, postgraduate or diploma classes are likely to have an array of options to choose from in the coming session.
Young World


Newcomers' day out
Jalandhar, May 1
It was a special day for new comers. CT Public School, Maqsudan organised a talent hunt contest for such kids who had taken admission in classes I to XII. The participants recited poems, read paper on different topics, performed dances and presented skits.
THEY'VE GOT THE LOOK: Students of Kendriya Vidyalaya No 1 during their annual day function in Jalandhar. — Tribune photo by Pawan Sharma
Shower power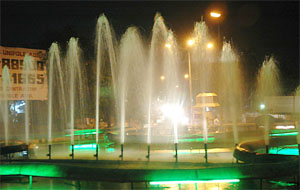 Fountains, which have sprung to life, present a beautiful sight during the evening hours in Jalandhar. — Tribune Photo by Pawan Sharma
Residents demand completion of work
Kapurthala, May 1
The Punjabi Bagh Welfare Society here thanked Mansoorwal municipal councillor (MC) Bhupinder Kaur and her husband Harbans Singh Walia, a local SAD leader, for carrying out different works in the Punjabi Bagh locality situated on Jalandhar road here.
Gold, cash looted
Phagwara, May 1
More than 10 unidentified robbers in the Urban Estate locality reportedly robbed a house of NRI Manoj Kumar here on Monday.