Fancy nos put DTO in trouble
Jalandhar, April 26
The District Consumer Disputes Redressal Forum has asked the District Transport Officer to pay a resident Rs 20,000 as compensation for causing him harassment by not issuing the fancy numbers for his cars he had applied for and refunding Rs 16,730 which had been charged from him unreasonably as extra road tax.
Boys impersonate girls to dupe gullible people
Two arrested, one flees. Identify themselves as Roshni and Pinki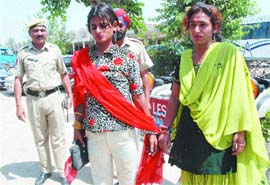 Jalandhar, April 26
In a bizarre incident, three boys were found duping gullible persons after impersonating girls at the local bus stand on Thursday morning. They had impersonated themselves girls in such a way after wearing lady dresses and make-up that it was almost impossible to judge their actual identity.
BEWARE: The two men, arrested by the district police, were allegedly duping some persons after impersonating themselves as women. — Tribune photo by Pawan Sharma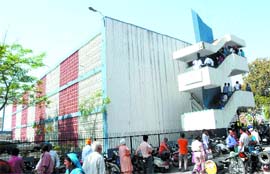 Complaints put halt to mobile jammer
Jalandhar, April 26
The passport office located at Civil Lines area had taken a leap forward by setting up a cell phone jammer to increase efficiency and security but oops it's not in use for some time now due to complaints from LIC office.
A view of the building at civil lines area where pasport office is situated. — A Tribune photograph


Malkit comes calling for Airwings Services
Jalandhar, April 26
Malkit Singh, the popular singing sensation, who is also the brand ambassador of MoneyGram International to the Punjabi community, visited Airwings Services Pvt Ltd (super agent for MoneyGram) here recently.

Malkit Singh during his visit to the Airwings Services Pvt Ltd in Jalandhar on Thursday. — A Tribune photograph
Sports Roundup
District chess tourney begins tomorrow
Jalandhar, April 26
The Jalandhar Chess Association is organising a two-day Jalandhar district chess competitions from April 28 at Seth Hukam Chand Public School here.


Splash! Splash! Splash!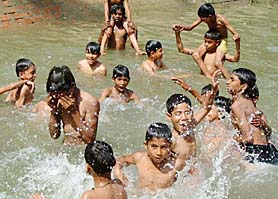 COOL GREEN? With the city temperature soaring up with every passing day, these kids seem to have found their own fun-way of keeping cool in the schorching heat, as they take a dip in the canal near DAV college in Jalandhar on Thursday. — Photo by S.S. Chopra

Young World
26 DAV students get jobs in L&T
Jalandhar, April 26
As many as 26 B. Tech students studying in their pre-final year at the DAV Institute of Engineering and Technology have been placed with Larsen & Toubro Infotech Limited, a construction company.
Gulina gives fashion tips to INIFD students
Jalandhar, April 26
The Inter-National Institute of Fashion Design (INIFD) organised a design workshop with Stefinia Gulina, fashion stylist and expert faculty from Milan, here today.
2.89-qt wheat arrives in Phagwara mandis
Phagwara, April 26
Punjab Mandi Board Secretary S Kulbir Singh today made a surprise visit to Phagwara mandi and assessed the situation about wheat procurement.