Spot the road!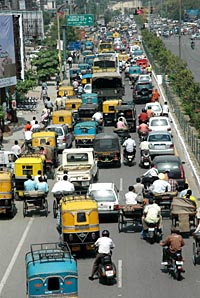 A view of bumper-to-bumper traffic on GT Road from bus stand side to BMC Chowk in Jalandhar. The commuters have to wait for the light to go green at least thrice before being able to cross the intersection. — Tribune photo by Pawan Sharma
Traffic police on challan spree in Phagwara
Phagwara, May 10
Traffic violators are having a tough time in Phagwara. The traffic police has taken upon itself to teach a lesson to these rules disobeyers.
Young World
Kids charm mothers on their D-day
Jalandhar, May 10
Mother's Day was celebrated by the pre-primary students of Delhi Public School in a special assembly on Monday. The tiny tots created a perfect platform for themselves to express their feelings and tell their mothers how much they loved and appreciated them.
27,000 looted, three injured
Phagwara, May 10
Nearly six miscreants, armed with sharp-edged weapons, struck at two places in Phagwara, looted cash of Rs 27,000 and injured three persons last night.
Sewage water in full flow outside bus stand
Jalandhar, May 10
Already the construction of the bus stand, which has been going on for almost a year, has put commuters on the back foot and now they are facing more difficult time with overflowing sewage water outside it.
Joy of teaching
The thrust is once again on making classroom education a joyful affair. And when CEVA is involved, one can expect a lot of enthusiasm and drama. Their latest innovation is a series of puppet shows to make the learning process interesting for children between the ages of two and three.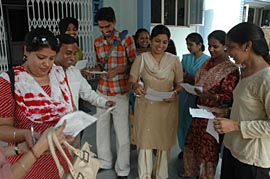 Auditions for radio jockeys saw participants from different fields
City smitten by FM bug
Jalandhar, May 10
The craze of the waves has hit the city youngsters to a hilt. It became all the more obvious during the four-day auditions held at All India Radio for short-listing the radio jockeys (RJs).
Participants in a jolly mood during the auditions of radio jockeys for All India Radio in Jalandhar on Thursday. — Tribune photo by Pawan Sharma
Rajvir tops MSc (IT) exam
Jalandhar, May 10
Rajvir Kaur Sangha and Ranju of Kanya Maha Vidyalaya, Jalandhar, who have secured the first and fourth position, respectively, in the MSc (IT) examination conducted by Guru Nanak Dev University.