THREAT PERCEPTION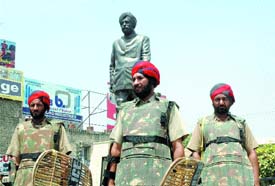 Policemen guard the statue of late Chief Minister Beant Singh at BMC Chowk in Jalandhar. — Tribune photo by Pawan Sharma
Night vigil stepped up in Phagwara
Phagwara, May 17
The city roads would no longer wear a deserted look at night, especially during the crime-prone hours of midnight to 4 am, thanks to the massive night-domination exercise started in the wake of the recent spurt in crime incidents, said Rakesh Aggarwal, Kapurthala SSP in a 'face to face' programme here on Wednesday night.
'HR training and development important'
Phagwara, May 17
In an ever-increasing competition of globalisation of business, human resource development and training are very important, this was stated by minister for dairy development, animal husbandry, fisheries, sports, youth services and SC/BC welfare Gulzar Singh Ranike while addressing newsmen here.
Free education tour organised
Kapurthala, May 17
Realising the educational value and being fully conscious and aware of the importance of educational tours, a free educational tour to Pushpa Gujral Science City was arranged by Dr N.S. Kang, chairman, VEDC Government School, Khassan, with the support of the Juniper Networks Foundation Fund at the Silicon Valley Community Foundation.
Gold ornaments, cash stolen from NRI's house
Phagwara, May 17
Thieves broke into the house of an NRI in Model Town on Tuesday night and reportedly decamped with valuables worth Rs 12 lakh.
Cong carries out protest march against Maan
Phagwara, May 17
Congress activists led by former Punjab PWD minister Joginder Singh Mann and block Congress committee president Manmohan Sharma yesterday held a protest march here against the anti-nation activities of SAD (A) president Simranjit Singh Maan, who desecrated the statue of late Chief Minister Beant Singh at Jalandhar.
Dining restaurant and bar open
Jalandhar, May 17
Hotel Sekhon Grand on Tuesday announced the opening of its dining restaurant Epitome and beverage lounge Alocholique.
Principal released
Phagwara, May 17
A local court today ordered the release on bail of Kailash Wati, principal of Government Senior Secondary School, Bhullarai village, charged with hurting the religious sentiments of a particular community
Young World
A rain full of cheers
Jalandhar, May 17
It was artificial but was enough to bring cheers in everybody's mind. In the mid of artificial rain, kids of Delhi Public School, took the opportunity to showcase their talent along with some much-needed relief and fun.
City schools gear up for summer camps
Jalandhar, May 17
As the summer vacation is about to begin in schools, the city kids will have a handful of opportunities to hone their skills, discover new areas of interest and experience a variety of fun-filled activities so that they can spend their time merrily and fruitfully.
Sports Roundup
Punjab tops karate championship
Phagwara, May 17
Punjab regained the top spot in the 3rd National Karate Championship, which was organised by Karate Federation of India (KFI) in Noida from May 11 to 13. Punjab clinched 6 gold, 2 silver and 6 bronze medals and was declared overall champion of the meet in which more than 400 participants from 18 states took part.
Passengers' agony at railway station
Kapurthala, May 17
Railway passenger Rakesh Sharma has written to V.K. Gupta, Divisional Railway Manager, Ferozepore cantonment, about the absence of critical passenger amenities and general mal-administration at Kapurthala station causing gross danger to passengers' health and safety.
Letters
Senior citizenship
The age limit for senior citizenship for all purposes, including income tax, should be 60 years. This limit is being considered by banks, the Railways, the PGI, Chandigarh, and other departments, but for income tax purposes it has been fixed at 65 years by the Finance Ministry. The age limit should be uniform at 60 years for all purposes.