HPU students to launch indefinite fast
Stalemate on attendance condition
Shimla, May 17
While reiterating that his doors are always open for talks, Himachal Pradesh University Vice-Chancellor Anil Wilson said today that he had no other option but to go by the university ordinance stipulating the condition of 75 per cent attendance.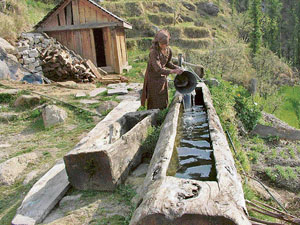 The tradition of storing water in a wooden tank made of a log of tree is still prevalent in interior areas of Mandi. This picture was taken in Devidehar village in Chachiot subdivision of Mandi district. — Photo by Mahesh Chander Sharma
Health Department on alert
Kid shows symptoms of paralysis
Nurpur, May 17
The detection of symptoms of paralysis in 18-month-old Nikhil of Kyala village in Hadal gram panchayat in this subdivision has put the Health Department on high alert to rule out any case of polio.
Poor Results
Villagers lock up teachers
Nurpur, May 17
Irate villagers of Bhogrwan gram panchayat in the subdivision yesterday held a demonstration in front of the local Government Senior Secondary School.
Quacks cheat 3 families
Nurpur, May 17
A number of families of the town fell prey to mobile quacks from West Bengal who were moving in the town in three groups yesterday.
Woman dies of snake bite
Kangra, May 17
Newly married 23-year-old Joyti Devi of Groh village died of snake bite yesterday, as her in-laws failed to take her to the hospital on time.
Canadian envoy lauds progress
Kangra, May 17
The Canadian High Commissioner to India, David M Malone, while praising the progress made by Himachal Pradesh, said India which he saw as a boy of 10 was now totally different from what it used to be.
Poll control rooms set up
Kangra, May 17
Election control rooms and media centres have been set up at Dharamsala and Dehra in connection with the June 2 Hamirpur Lok Sabha byelection.
Villagers, jawans compromise
Mandi, May 17
The district police today resolved the dispute between the Pandoh residents and Pandoh-based 3rd IRB Battalion.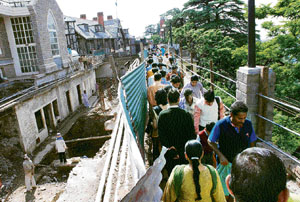 The renovation of Gaiety Theatre at The Ridge spells inconvenience for tourists as well as residents of Shimla. This picture clearly depicts people negotiating with difficulty the narrow stretch near the theatre on Thursday. With the slow pace of renovation work, it will be difficult to hold the Summer Festival, scheduled for June 2. — Tribune photo by S. Chandan
BSP launches awareness drive from Paonta Sahib
Nahan, May 17
Close on the heels of its victory in UP, the BSP has launched its statewide awareness campaign in Himachal Pradesh from Paonta Sahib.



Brahmins support BSP
Nahan leprosy hospital begins functioning
Nahan, May 17
The district leprosy hospital has once again begun functioning after a gap of more than 2 years.
3 houses gutted in Rajgarh area
Nahan, May 17
Three houses were gutted today in Rug Bakhot village under Dahan Panchyat in the Rajgarh area.
Power for BJP a distant dream, says Virbhadra
Shimla, May 17
Making a scathing attack on the BJP, Chief Minister Virbhadra Singh said today that the saffron party had always been playing with the sentiments of the people and dividing them in the name of region, caste and religion to achieve its ulterior motives of coming to power which still was a distant dream.
Construction Boom
Forest corpn may come out of red
Shimla, May 17
The ongoing construction boom in the country is proving to be a boon to the state forest corporation, which has perpetually been in the red.
Yog shivir opens
Shimla, May 17
Governor V.S. Kokje inaugurated the yog vigyan shivir organised by the local Guru Nanak Dev Samaj Kalyan Evam Shikshan Sansthan, at Jathia devi, near here, today.