Three rly overbridges proposed
Jalandhar, May 22
Bholath MLA and District Congress Committee chief Sukhpal Singh Khaira has sent a written communication to railway minister Lalu Prasad Yadav demanding sanction for construction of three railway overbridges in his constituency.


Hey, watch me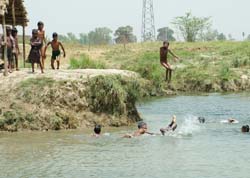 Kids make a splash into the Kali Bein near Goray village in Kapurthala. — Photo by S.S. Chopra
One and all
Amazing '1'
The wonderful number "1" is such a number as can lead to marvellous results. Have you ever heard or read about any beautiful results drawn from this number "1"? If not, let's see how?
Young World
Sweden tour to enlighten students
Jalandhar, May 22
A group of seven students from Police DAV Public School left for a two-week trip to Sollentema International School, Sweden, under an academic and cultural exchange programme. The group comprisses class X students, Arvind, Sargam, Harneet, Taranpreet, Rajdeep, Apurv and Simarpreet, along with principal Dr Rashmi Vij and faculty member Ratlandeep.
Re-start yoga contests, demands body
Jalandhar, May 22
The Jalandhar District Yoga Association has criticised the authorities not stopping the inter-university yoga competitions. Association president Pawan Sharma said in a statement here that on the one hand the entire world was following India to accept yoga, on the other, the Central Government had stopped the competitions, causing resentment among the yoga players.
Pawan Sharma, president of the Jalandhar District Yoga Association, along with yoga players, in Jalandhar on Tuesday. — A Tribune photograph
Ramp scorchers are here
Jalandhar, May 22
A fashion show was organised by the military hospital of Vajra Corps at Jalandhar Club in the cantonment here on Tuesday. The show was organised as a stress relieving measure for officers and their families at the station.


A fashion show organised at Military Hospital in Jalandhar was a huge hit