GROUND REALITY
Steel deal
Jagvir Goyal provides tips on how to lend strength to buildings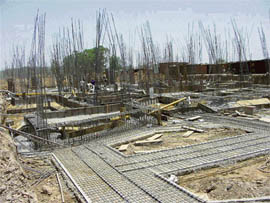 Photo by Malkiat Singh
The activity of cutting steel bars to required lengths, bending them in required shapes and then laying them in a correct manner always weighs heavily on the minds of a house builder. Here is a 10-point guide to take control of this important activity and finish it in a perfect manner:
Bending schedule
Make a schedule of various lengths of steel required for RCC work in slabs, beams, columns and lintels. Some lengths are straight, others cranked and some are in shape of stirrups. Find straight length required for each type of bar. Assign a code number and find the required numbers for each diameter and each code. Thus a bar cutting and bending schedule is ready. Make calculations to work out required steel lengths for each diameter. Bars available in the market vary from 9 to 12 metres. Choose the lengths required by you. This exercise will minimise the wastage of steel and you will not be left with many cut pieces. Ask bar binder to first cut the bars to required lengths and then to give required shape to each kind of bars.
Laps provision
Many times, steel bars of required length are not available and two bars are to be laid to cover full length or breadth of a room. Sometimes, in order to utilise bars of smaller lengths and avoid wastage of steel, we lay two or three bars along a length. In both cases, overlap of the two steel bars is a must. Suppose you need to lay bars of 15 feet length and only 10 feet long bars are available. Thus two bars will be required to cover the entire length of 15 feet. For this, you can't lay a bar of 10 feet length and another of 5 feet length ahead of it but the two bars will require certain overlap for transfer of stress from one length to the second. These overlaps are called laps in steel. The length of these laps varies for bars in compression and tension. However a lap of 50 times the diameter of bar can be safely provided in all cases. For example, for 10 mm diameter steel, give a lap of 500 mm length.
Distribution steel
It is often asked why the steel binders, called distribution steel, are put in the slabs when these are not designed to carry any load. Distribution or secondary steel or binders help in resisting cracks due to temperature and shrinkage stresses. Therefore, never avoid this steel. See that distribution steel is at least 25 per cent of main steel.
Cantilevers
Take special care of position of reinforcement in cantilever slabs. In cantilever slabs, steel must be at the top face and not at the bottom as in normal slab. Bottom steel coming from main slab to the cantilevers must be cranked up to remain at top and steel chairs made of small cut pieces should be provided below it to support it. Take care that labour movement does not settle the steel from top to middle or bottom. If it happens, cantilever slab or chajja will fail and fall down either on removal of shuttering or sometimes later. Make proper arrangement for movement of labour. Get made a few steel or wooden counters of height just more than the slab thickness. Further see that these are so made that these can be rested well in the slab steel grid without pressing the steel. Put GI sheets or bamboo challis over them. Labour force will then be able to move freely without disturbing steel reinforcement.
Cut pieces
Whatever cut pieces get generated during cutting of steel, convert them into supporting chairs and spacers. Do not insert these cut pieces here and there in the slab. Most of the masons do so by saying that it will further strengthen the slab. Such cut pieces provide no additional strength. Make Z type chairs and spacers of them and tie them at regular intervals below the top steel to avoid its sagging under the weight of concrete being laid.
Upside down
There are many cranked bars in beams and slabs, which are bent as per drawing by the blacksmith and stacked aside. While placing these bars in position, it has been seen that sometimes the bars gets placed in upside down position. This is a dangerous situation and such beams or slabs may collapse any time. A simple check for correctly placed steel is that the cranked portion of bars of slab should be above the walls while straight lengths should be at the centres. Similarly, cranked length of bars in beams should be at ends and straight lengths at the centre of beams. It shall be better if you ask a qualified engineer to have a look at the laid steel before pouring concrete in position.
Cutting activity
While the steel bars, up to 16 mm diameter, can be cut to size by a chisel, bars of 20 mm diameter or more may need gas cutting. Ask bar binder to bring it one day and finish all gas cutting work that day. Take care that bars are bent cold to shape and avoid their heating up to ease bending. Bars of exceptionally high diameter, say above 32 mm, may however, be heated up for bending them to required shape, if unavoidable.
Binding wire
Use soft iron binding wire for binding of steel in position. Soft iron wire does not break up during bending around the bars. Choose 16 or 18 gauge wire. Ensure that it is rust free. Mostly it is available in bundles of small pieces each having sufficient length to tie two bars. While binding the steel, ensure that the loose ends of binding wire are turned down into the slab and do not protrude above the bars. If this is not done, these small wires will come out of slab surface and pave way for rusting of steel. This small precaution pays dividends in the long run. About 4.5 kg of wire is generally required for one tonne of steel.
Provide hooks
End hooks of steel bars play an important part in increasing grip as these provide anchorage to steel in concrete and help in creating a stronger bond between the two materials. Therefore, always provide end hooks to steel bars. Semi-circular hooks are provided in round steel bars but it is not possible to provide such hooks in TMT or HYSD bars of large diameters. Therefore, L type bent ends should be provided for such bars. The length of the L bent should be 4 times the diameter of bar.
Stagger laps
Whenever laps are needed to be provided in steel, these should be located at such locations where tensile stress in the bar is the lowest. Ask your engineer about it as only he can identify these locations as per site conditions. Further, the laps should always be staggered.
By this, we mean that laps in all bars should not be at same distance from one end but at different distances in different bars. Further, the two lapping bars in a length should be bound well with binding wire in the overlapped portion. Though length of lap can be reduced by welding the two bars instead of binding them with wire, generally it is difficult to arrange a welding set and electric connection for it. Moreover, bar binders are not expert in welding and damage the steel during welding.
As the laps result in the increase in quantity of steel required, their number should be kept minimum. To achieve this, steel bars of required lengths only should be purchased so that much necessity of overlapping two bars of smaller lengths does not arise.
Happy building!!
The writer is SE (civil), PSEB. He can be reached through www.jagvirgoyal.com