Family Ties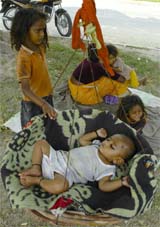 This little girl takes care of her young sibling while her mother is busy with other chores. —Photo by Rajiv Sharma
'Freedom struggle was war for self-respect'
Amritsar, June 22
"The national movement of freedom struggle was the war for self-respect for all Indians. For Bhagat Singh, the principles were dearer than his life and in real sense, he was a man of crisis."
7 booked for kidnapping Tarn Taran girl
Tarn Taran, June 22
The police has booked seven persons under Sections 363, 366, 148, 149 of the IPC for allegedly abducting daughter of a widow of Johal Raju Singh village from her residence ten days back.
MNCs recruit 240 GNDU students
Amritsar, June 22
As many as 240 students of the 2008 batch of various courses of the Guru Nanak Dev University, have been selected by Multinational Companies before the completion of their formal studies. These students would be paid packages ranging from rupees 2.95 lakh to 4.00 lakh per annum.
Cool Capers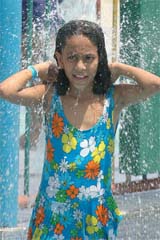 A young girl cools herself under a fountain in Amritsar on Friday. —Photo by Rajiv Sharma
Soon: Vocational courses for women
Amritsar, June 22
Guru Nanak Dev University has invited applications for job oriented courses for un-employed women at its regional campus and Shaheed Ram Singh Pathania Memorial College, Niari, in Gurdaspur district. Prof Subhash Chandar, director and head of the department of adult continuing education and extension, has said application forms for these courses are available on the GND varsity regional campus and Niari College in Gurdaspur and can be submitted by June 29 at the same venue.
No night bus service troubles commuters
Amritsar, June 22
The district unit of the Communists Party of India (CPI) has submitted a memorandum to the deputy commissioner demanding restoration of the bus service from Jandiala Guru. In the memorandum, the CPI leaders said the late night bus service, which was stopped during the militancy days, should be restored for the convenience of the late night commuters.